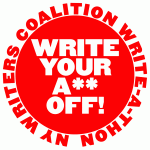 I mentioned a "contest" of sorts in my post the other day about the New York Writers Coalition's June 12 event: write 3,000 words on that one day, they said, and you could enter a drawing. Winner of the drawing would receive a free consultation with author Jennifer Belle. But I added:
…other than this email [from a NYWC publicist], I haven't seen any official confirmation of this 3K-word challenge — like details about how the drawing will work — particularly for out-of-town writers. I'll see if I can learn more.
Now I've got some of those details (thanks, Adaeze!):
First, sign up for the online "write-a-thon" here. You have to register, but it's free.
Note: New registrations do not take effect automatically, but are human-moderated. This means you should expect a time lag before being able to do much of anything at the site. Do not wait until June 12 to register!
On June 12th, they'll use the honor system. (My correspondent says, "We're relying on them to be honest with themselves" — and I'll wag my own index finger in your direction on this point. I mean, come on: it's not like they're requiring 3,000 tightly written words, right?)
When you've met the basic word-count requirement, you'll post a comment on a write-a-thon thread they'll open at the site.
At the end of the day, they'll close the comment thread and draw a winner, announcing it at the site.
And then, finally, they'll provide details to the winner about the logistics of claiming his/her consultation with Jennifer Belle.
If I learn anything else about the rules, or The Day itself, or Jennifer Belle, or… oh, hell: if I learn anything else about anything vaguely relevant, I'll post the information here at RAMH. In the meantime, if you feel ready to take the challenge, hie thee to the NYWC discussion board and sign up.
Send to Kindle