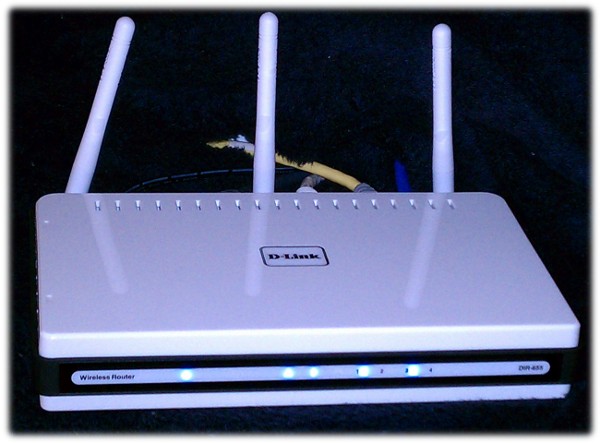 We're thinking of physically reconfiguring our network equipment here at the house. Currently, the DSL modem and router are upstairs in my office — at the far end of the house — where they've been since we moved here ten years ago. Since then, things have changed:
The Missus no longer has a desktop computer. She has a laptop, which can use either a wired or a wireless connection.
We have new smartphones, which can connect to the Internet either via our carrier's own network, OR through (much faster) WiFi if available.
We have a streaming-video device connected to our TV which lets us download movies and TV shows (etc.) — unavailable through our satellite-TV provider — via services like Netflix, Amazon, Hulu, and so on. Or rather, it would let us do so, if (a) we had a reliable wireless connection at that location, or (b) the wired connection there weren't already devoted to our satellite DVR.
Our newest Kindle, like the smartphones, can use either WiFi (faster) or Amazon's own 3G "Whispernet" network, depending on which is available.
So in other words, wireless is the way to go. And for the streaming video and the DVR, if a wired connection is available then so much the better. Obvious technical solution: move the modem and the router to the living room.*
The problem with the "obvious" solution is æsthetic: the damn boxes are just so ugly. (The wires can be hidden behind shelving or, in a pinch, colored/patterned cord covers mounted on the wall.) The cable modem, eh, not much of a problem. It's a small black box maybe four inches on a side, an inch or so deep, and can be tucked almost anywhere in or on top of the cabinets on that wall. But the router (pictured above, posed coyly on a black-velvet background) must remain out in the open, in order to offer the most trouble-free wireless access from anywhere in the house.**
So only apprehensively did I propose this reconfiguration to The Missus, who's always more concerned than I that our household furnishings and accoutrements in "public areas" present a NonUgly™ face to the world.
Whew: I found an online source for "skins" (thin plastic patterned, colored, or illustrated decals or stickers) customized not just for the usual devices, phones and e-readers and laptops and such, but even for routers. And happily, our own brand/model of router is among the options available.
How important are household æsthetics to you?
And what parallel(s), if any, could you draw for your taste in writing, music, and other arts, in your decorative taste?
______________________
* I myself don't have a laptop, and my desktop computer does not have a wireless network card. So will this strand me? Nope. Because we've also got whole-house wired connections available, via our household power lines. (We can't use this feature everywhere… for æsthetic but also safety reasons: wires everywhere.)
** Yes, I am aware that modern wireless networks aren't much impeded by walls and other obstacles. Feel free to be as casual as you want in setting up your own system. For my own taste, though, in dealing with technology (especially hardware) I always aim to eliminate as many variables as possible.
Send to Kindle