[Note: an abbreviated whiskey river Fridays post today, since I'm out of town. Normal blogcasting (whatever "normal" means) will resume tomorrow. This includes tracking down primary sources for the quotations, per my usual practice on Fridays.]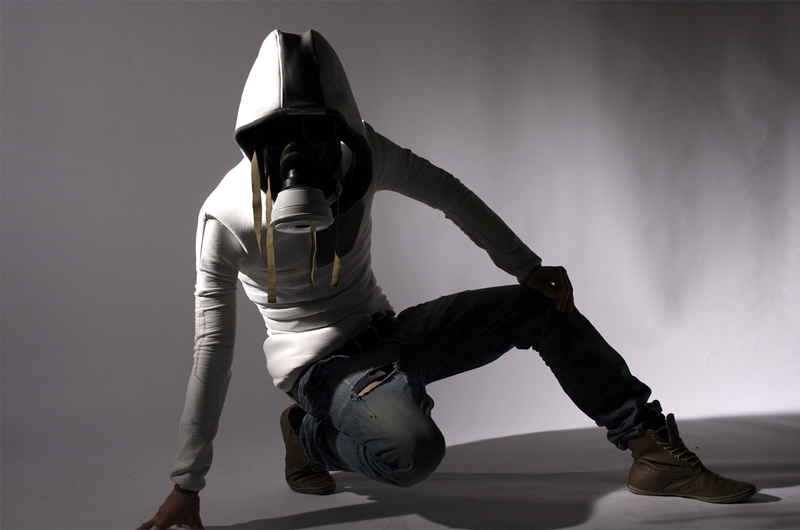 [Image: Urban Security Suit, designed by Tim Smit of Nieuwe Heren. For more information,
see the note at the foot of this post.]
From whiskey river:
No one lives his life.

Disguised since childhood,
haphazardly assembled
from voices and fears and little pleasures,

We come of age as masks.
Our true face never speaks.

Somewhere there must be storehouses
where all these lives are laid away
like suits of armor or old carriages
or clothes hanging limply on the walls.

Maybe all paths lead there,
to the repository of unlived things.
(Rainer Maria Rilke, Rilke's Book of Hours: Love Poems to God)
…and:
It is fabled that we slowly lose the gift of speech with animals, that birds no longer visit our windowsills to converse. As our eyes grow accustomed to sight they armor themselves against wonder.
(Leonard Cohen)
Not from whiskey river:
Any reviewer who expresses rage and loathing for a novel is preposterous. He or she is like a person who has put on full armor and attacked a hot fudge sundae.
(Kurt Vonnegut)
…and:
All Souls

A few of us — Hillary Clinton, Vlad Dracula,
Oprah Winfrey, and Trotsky — peer through
the kitchen window at a raccoon perched
outside on a picnic table where it picks

over chips, veggies, olives, and a chunk of pâte.
Behind us others crowd the hallway, many more
dance in the living room. Trotsky fusses with the bloody
screwdriver puttied to her forehead.

Hillary Clinton, whose voice is the rumble
of a bowling ball, whose hands are hairy
to the third knuckle, lifts his rubber chin to announce,
"What a perfect mask it has!" While the Count

whistling through his plastic fangs says, "Oh,
and a nose like a chef." Then one by one
the other masks join in: "Tail of a gambler,"
"a swashbuckler's hips," "feet of a cat burglar."

Trotsky scratches herself beneath her skirt
and Hillary, whose lederhosen are so tight they form a codpiece,
wraps his legs around Trotsky's leg and humps like a dog.
Dracula and Oprah, the married hosts, hold hands

and then let go. Meanwhile the raccoon squats on
the gherkins, extracts pimentos from olives, and sniffs
abandoned cups of beer. A ghoul in the living room
turns the music up and the house becomes a drum.

The windows buzz. "Who do you love? Who do you love?"
the singer sings. Our feathered arms, our stockinged legs.
The intricate paws, the filleting tongue.
We love what we are; we love what we've become.
(Michael Collier)
I don't really know for sure which song is referenced in the above poem… but I wouldn't be surprised if it turned out to be this one (playing behind a video tribute to its composer, Bo Diddley); it's something of a paean to the notion of donning a costume in pursuit of a lover:
[The lyrics I found for this the other day aren't quite right; I suspect their version may have been performed as a cover by some other artist. But I don't have the software I need to correct the problem right now. Looks like fixing them will be another feature of the retun to regular-blogging "normalcy."]
_________________________________________________
About the image: the Urban Security Suit, says its designer, is:
A vision of the nowadays society of living in fear.

With all the possible threats people face these days,
Civilians will eventually be in need of a fashionable and wearable armor.
Made out of neoprene and bone lined Kevlar.
They do not mention here that the matching gas mask is apparently part of the ensemble; at least, it appears in all the other photos, too.
Lest you draw any untoward conclusions, they hasten to add: "Nieuwe Heren is a pacifistic organisation, that doesn't support any act of violence."
Send to Kindle