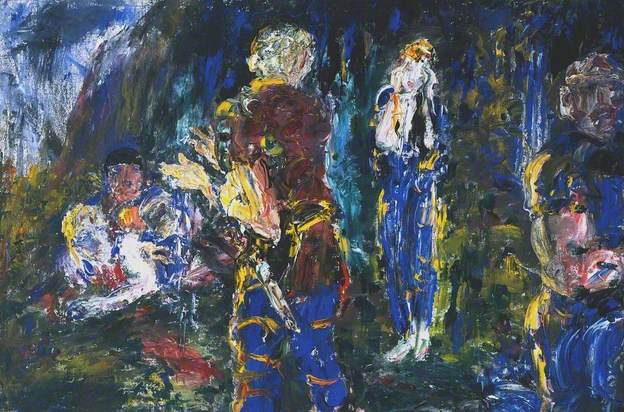 [Image: "The Death of Diarmuid, the Last Handful of Water" (1945), by Jack Butler Yeats.
The title alludes to the ancient Irish tale known as The Pursuit of Diarmuid and Gráinne.]
One of my favorite playlists is called "Water Music": songs about and/or titled in such a way as to emphasize good old H2O — rivers, oceans, rain and snow, teardrops, wading-swimming-surfing-and-diving… It's also one of my biggest, most wide-ranging playlists (if burned to CD, it would span several disks). It amazes me how much music, across all kinds of genres, references the stuff in a non-peripheral way — not always literally, but often as metaphor for something else.
This week, with Hurricane/Tropical Storm/what-have-you Sandy on my mind, bits and pieces of that playlist keep jumping out at me. A great many of those songs could fit quite nicely with the headlines of the week, and I thought of songs that hammered at the literal (if not — haha — littoral) use of "water" and related terms. Creedence Clearwater Revival, "Who'll Stop the Rain?"; the Doobie Brothers, "Black Water"; the Sons of the Pioneers, "Red River Valley"; "Bridge over Troubled Water"… "Tracks of My Tears"… our old friends "Cry Me a River" and "Wade in the Water"; and — whoa — Johnny Cash's "Five Feet High and Rising."
But you know what? It's kind of tacky to go that way: almost jocular, almost making light of what Sandy has wrought. (For much the same reason, I'd imagine, CNN has reportedly banned the term "Frankenstorm" from its broadcasts.)
Instead, let's turn to Warren Zevon, who grabs for much more than the literal in his "Fistful of Rain":
[Lyrics]
Send to Kindle