[See the previous entry in this series here]
Bertha Morris Parker was born in a small town named Rochester, Illinois — a few miles east of the state capital at Springfield — on February 7, 1890. Her father owned a drugstore in "the village" which, as near as I can determine, was at the corner of Main Street and John Street.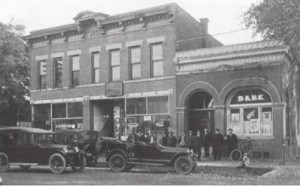 Here's a photo of the store, at right (click to enlarge). The photo comes from an historical memoir of early Rochester, As I Saw It, by an author named Justin Taft with family ties to the area. The two-story building on the left was called the Twist Building — you can see the word "TWIST" on the facade, at the top — after a private telephone company which occupied the top floor. The H.D. Parker drugstore took up half the floor below it, just to the right of the stairway and the left of the bank.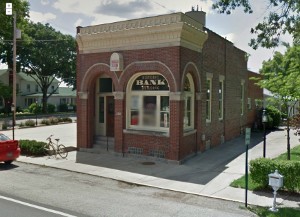 The Twist Building itself burned "to the ground" in 1930, although the bank building survives (photo at left, courtesy of Google Street View).
I know little about the home where Bertha Parker grew up, except what she recorded in a collection of "autobiographical notes" in 1979*: "My family… lived in a big house surrounded by an acre of ground dotted with walnut and maple trees." (I did find a report of Parker's father having bought a house in 1904, but I don't know if this was the house she grew up in.)
The drugstore sold lots of stuff besides drugs, of course. A history of Sangamon County, Illinois (published in 1881) says that Parker, with his partner at the time, "are engaged in selling drugs, groceries, hardware, queensware, etc., and have a large and lucrative business. In politics he is a Republican." (Love that last bit.)
An elderly area resident recalled, in a 2004 interview, that the store included a soda fountain, and that out front — hence the cars at the curb in that old photo — stood the first gasoline pump in Rochester. It also "stocked tires, tubes, and those things that people needed for their cars," cosmetics, and Victrolas (!). She added, with what I imagine to be a little touch of small-town insider's whispered rumor:
I'm not even sure if he was a registered pharmacist, because there probably was very little prescription medicine at that time. Most everything was just sold over the counter. Medicines that were [sold] probably, the doctors told people what to buy and they'd go to the drugstore and buy it.
For schooling, Rochester offered but a single four-room building, with one teacher per room. Bertha Parker recalled that the seventh- and eighth-grade teacher did double (or rather, treble) duty as the school's principal. Yet "the teaching staff was of higher caliber than one might expect," thanks to the presence of a teachers' college in nearby Springfield which supplied the outlying areas with a steady stream of well-educated, ambitious educators. Still:
…the curriculum was chiefly reading and writing and arithmetic. It offered no challenges. No child was ever asked to express an opinion of his or her own. No problems were presented without a pattern for solving them. There was always time for studying while other groups were reciting. Nothing was provided for those who did not need so much study time.
Most damning, perhaps, in Bertha Parker's later memories — yet maybe the most important single fact in her professional life to come:
It apparently hadn't occurred to the teachers in our school that interesting plants and animals were common in the vicinity of the school and could have been used to give children an excellent introduction to nature study.
—
As we can infer from between-the-lines evidence in the preceding paragraphs, Bertha Parker must have been a star student in her little hometown school. While she may have chafed at the limited resources there, she was lucky to live close to Springfield, where Rochester's elementary-school graduates moved on to high school. There at Springfield she apparently continued to shine… but not in the way of an academic comet, blazing through the syllabus on an accelerated schedule. Rather, she took longer than she had to: "After graduation I chose to spend an extra year in high school; there were some courses I wanted to take that I hadn't been able to find time for."
Edit to add: This sounds rather like Hermione Granger, in the Harry Potter books. Those of you who've read the books or seen the films may recall that Professor Snape once called Hermione an "insufferable know-it-all." Heh.
I tried to find out more about the high school Parker attended. This was apparently called Central High School, built in 1897 but (says Wikipedia) "already overcrowded by 1915." Because the newer school which replaced Central was and remains a pretty functional-looking place, I'm guessing these two views of a more Gothic "Springfield High School" are of Central:
(Neither view reveals, to me, a place in the Midwest likely to be overcrowded with high school students in 1915 — but I'm no expert, the gods know.)
When she finally left high school for good, she spent a year at Oberlin, and a summer at Columbia, before coming home to Illinois more or less for good: settling, in 1912, at the University of Chicago. Two of her four sisters had already gone there; like them, she elected a teaching career.
Unlike them, though, she did not opt to go on to teach college-level courses:
I elected to work with intermediate-grade children. They were young enough to be enthusiastic about anything new and at the same time they could read, follow instructions, and manipulate materials effectively. Remembering my own uninspiring middle-grade days, I thought this level would offer me my best chance to make a real contribution.
Thanks, apparently, to a combination of early interest in "nature study," and her practice teaching assignment to a mentor with responsibility for elementary and high-school science curricula, she was able to specialize in science rather than the humanities. After getting her BS degree, she taught in the Springfield school system for a year.
…and then she returned to the school where she'd done that practice teaching, there to remain well into mid-century: the University of Chicago Laboratory (or plain-old Lab) Schools.
[Coming in a later part: Bertha Morris Parker and the University Lab Schools]
_________________________
* These autobiographical notes are included in full and verbatim as an appendix to an article, "Pioneers in Elementary-School Science: VI. Bertha Morris Parker," by Audrey B. Champagne and Leopold E. Klopfer. This appeared in the journal called Science Education (Volume 64, Issue 5, pages 615-636) in October 1980. It seems to be the most complete and definitive source of information on Parker published anywhere, anytime.
Send to Kindle