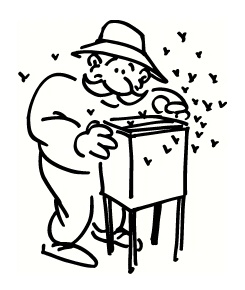 As some of you on Blogger-based weblogs may know, a fraction of those sites recently had to convert from a particular old technology to a newer one. The owners of affected blogs received a series of email notifications from Blogger tech support, and by now any such sites have been converted over to The New Way… or can no longer be updated.
Running After My Hat is my first non-Blogger blog. But over the years — for myself and for others, some paying and some not — I have built and otherwise had a hand in contributing to a total of twelve Blogger sites. I got notifications that four of them had to be converted to Blogger's current service level, and somehow managed to get them all switched over about a week before the May 1 deadline.
One of the four was a real relic — one I'd almost forgotten about.
Back when I did one of my first tech books, I acquired the first Internet domain name all my own. Its purpose was to support the book and its readers in any of various ways; over time, it also started to accrue bits and pieces of personal information. At the time, Blogger was still a novelty, still operated by its developer (a company named Pyra, later acquired by Google). The first several pages of my site, I put up in January 1999; by November, I'd decided it was time to try this weblogging thing, and created my first blog.
During the conversion of the old form of the FlixML Weblog from old to new (but no longer maintained!), I had a chance to re-read the old entries. The very first posts, starting November 4, 1999, dealt almost exclusively with computer and Internet technology. But even back then, I'd already gotten bored with writing about technology only. The November 8 post said, in its entirety:
Ah: electric bagpipes. Why didn't someone think of this before???
(Gee, my blogging style was a hell of a lot more terse back then — though in fairness, so were the styles of many bloggers. That was also my first post whose links to other sites still work; every post, pretty much, consisted of a link and a sentence or two of commentary.)
By January, 2000, I'd already run out of gas. The last entry I can find with a working link was dated January 5:
No idea how often, if ever, this page of "things people said on their resumes and cover letters" might be updated… but it's hilarious, and well worth at least one visit.
In retrospect, I'm not sure I'd now describe it as hilarious — but heck, we've had over ten years to burnish our notions of Internet hilarity.
As for the general site built around my domain name, I eventually gave up the domain name itself, and by now it's no doubt been co-opted by some mercenary squatter. But you can still see the site's ghost via the magic of the Internet Archive's Wayback Machine: the FlixML Home Page is here. The technology and information about the book per se is kinda ho-hum by now, but some of the other content may be of passing interest. Like the B-movie stuff. Or what passed for my "personal home page" back then, with its offspring pages… including this absurd photo:
Yes, that's Wallace & Grommit apparently bursting from my chest, à la the baby alien from John Hurt's in that movie.
_____________________
Note: The image at the top of this post came from a clip-art package included with an old version of WordPerfect, which was the word processor I used back then. The book for which I set up the FlixML site had page-long reviews of B movies scattered through it; these were called "B Alerts," and were marked in the margin with an icon-sized version of this beekeeper. These B Alerts covered five B-grade films: Carnival of Souls, Detour, He Walked by Night, Ms. 45, and Targets. In the book which followed, I added four more: Caged Heat, Criss Cross, Johnny Guitar, and When Dinosaurs Ruled the Earth. (You know where to look up all these films.)
Techies and would-be techies who thought Just XML would be a sober reference work — despite the jacket copy and earlier reviews, which made it obvious I'd taken a light, informal approach to the subject — absolutely hated the B-movie material. Sigh…
Send to Kindle