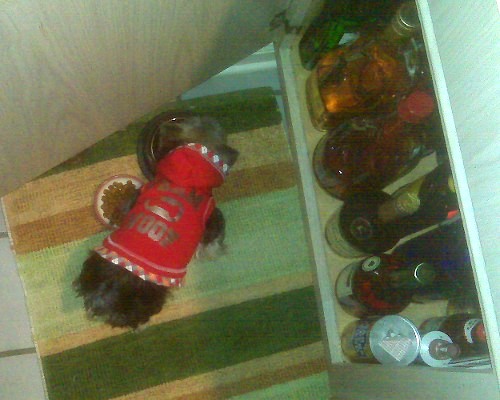 [For information about this photo, which doesn't precisely relate to the post,
see the note at the bottom.]
The scene: A suburban home in northern Florida, USA. He is trying to get the household denizens out the door promptly in the morning. He has walked and scooped up after The Pooch. He has fed The Pooch; He has fed The Cat. He has prepared the snacks/lunches which He and She will need during their respective workdays. The Pooch, at the gate to the kitchen, tosses her paper plate in the air, signaling breakfast done-age and, hence, ordering a second course. He ignores her. He sets out the various daily medications which He and She take. The Pooch barks. He ignores her. He brings the newspaper in. The Pooch noses her empty plate around on the tile floor. He ignores her. He gets His water bottle from the refrigerator. The Pooch barks again.
He (to The Pooch): Jesus Christ, all right already, I hear you! You think you're the only person in the house?!?
_________________________
About the photo: We have a wet bar in the living room, and after we get home from work at the end of the day one or the other of us will usually go there to make a drink. We stock the bottles of sweet-and-smoky-smelling liquids in a cabinet below the sink, as you can see at the right of this photo. About eight of every ten times we do this, The Pooch comes to her water bowl to drink, as shown (here wearing her red Team Woof hoodie). This completely cracks us up.
Send to Kindle