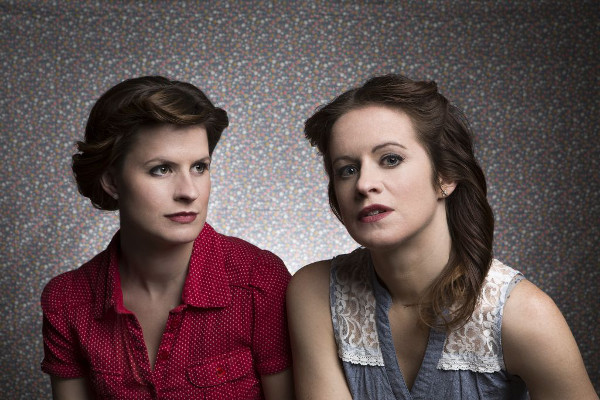 [The Hello Strangers, looking like they stepped out of a 1950s kitchen almost anywhere in America. I believe that's Brechyn on the left, and Larissa on the right.]
As you might guess from the above photo, The Hello Strangers make no bones about their affinity for the past. (Unsurprising for an Americana band, maybe, but refreshingly unmixed with anything even approaching the noise of other genres.) The sisters, Larissa Chace Smith and Brechyn Chace, hail from a small but disproportionately influential* town in south-central Pennsylvania, and seem about as rooted — grounded — as that fact might lead you to expect.
(Scrolling through the gallery of promotional photos at their site — and being surprised by their retro eccentricity — made me laugh several times.)
The Strangers' first, self-titled album has actually been out for a few months, but I learned about it via NoiseTrade's weekly newsletter and site, where it's highlighted as one of this week's featured titles: "For fans of Kathleen Edwards, Lucinda Williams, Ryan Adams, Johnny Cash, [and] Emmylou Harris," says NoiseTrade, and I'm in no position to argue. The harmonizing voices and instrumentation weave in and out with each other, forming a haunting mesh of sound which sticks in the mind long after the last note fades.
I offer two songs from the album here today, "Runaway" and "Conococheague." If you like those two as much as I do, head on over to NoiseTrade and give a listen.
[Lyrics: Runaway, Conococheague]
_________
* Why "disproportionately influential"? Per Wikipedia, the town's small boarding school, Mercersburg Academy, has "produced several Rhodes Scholars, three Medal of Honor recipients, a Nobel laureate, two Academy Award winners, and 54 Olympians (including 12 gold medalists)." Among those who've roamed its halls have been actors Jimmy Stewart and Benicio del Toro, as well as they guy who played Perry White on the Superman TV series and Vanessa Branch, the original "Orbit gum girl" ("Fabulous!").
Send to Kindle