[Video: Anaïs Mitchell, "Song of the Magi": a subtly subversive "Christmas carol" if I've ever heard one. (Lyrics)]
Want to visit the pages for earlier playlists, which include videos, other songs, and some background material not in the "official" list? Here y'go:
If you've visited RAMH at about this time in previous Decembers, you know (more or less) what to expect from this post. You probably don't know it all though…
For starters, I've moved the text listing of all songs — which was taking up way too much space in the post itself — into a separate pop-up window. If you'd like to keep the complete current songlist open for reference in a separate window while the music plays, use this link. (This is just a simple text list of song titles and artists, not an actual player.)
One other (bigger) change here: the little audio-player gizmo has changed since 2014 (for reasons boring and technology-driven):
The song titles, alas!, now appear as grotesque file names rather than, y'know, good old English. You'll still be able to glean the titles themselves, but still…
Play, pause, forward and reverse buttons — that stuff is still here.
…but the player now includes a "popout" feature, which opens up the player in a separate, smaller window of its own — good for tucking to the side, if you just want to keep the music in the background while you go off elsewhere on the Web.
Finally, if you're observant, you'll notice a more standard, more obvious way to obtain the current track for yourself — without requiring the secret RAMH "decoder ring" trick I've provided in the past.
Enough of all that. Here's the little player doo-dad. (Note that the post itself continues on below it — if you need something to read in the meantime!)
A Quirky/Eclectic Christmas Mix (complete)
If you're pressed for time, and/or just don't want to (re-)listen to the earlier years' selections, the similar gizmo which follows lets you listen to just 2015's ten-song list, without having to fast-forward through earlier years' lists:
A Quirky/Eclectic Christmas Mix (2015 Only)
Update: new feature
You can now open the full playlist in a separate window with "shuffle" mode enabled. This will begin playing as soon as the popout window open. (Some mobile devices/tablets disable the autoplay feature, though.)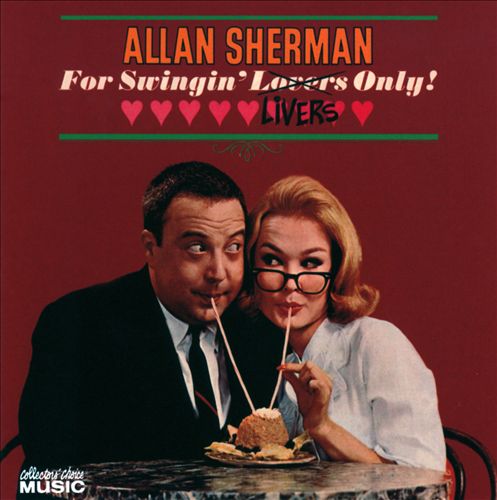 I start putting the annual playlist together sometime around Thanksgiving. Probably unsurprisingly, over the next few weeks I do a lot of time-tripping, as I rediscover forgotten old favorite songs, and hear voices and arrangements I haven't heard in decades.
The name "Allan Sherman" may not ring a bell for you if you're young. But for a time in the 1960s, especially, it seemed that he was everywhere on radio and TV. An unlikely pop star, he was rather an overweight, nerdy-looking, crewcut guy, frequently photographed wearing black-rimmed glasses. (In the album cover at right, the glasses have been transferred to the young lady sharing his — yes, it appears to me — scoop of liver pâté, a classic Jewish-deli menu item. As for the title, it points not only to the illustration but to the title of a highly influential 1956 album by Frank Sinatra: For Swingin' Lovers Only.)
Sherman specialized in a musical genre with not a lot of adherents: parody. But unlike Stan Freberg, say, or Weird Al Yankovich in our own time, Sherman preferred to lampoon not contemporary music, but old music — folk songs, familiar classical tunes, and so on. His shtick, if you will, was to transform these songs into comments on the mid-20th-century American middle class, particularly the Jewish-American middle class.
So it was a little surprising, in a way, that Sherman — happily Jewish himself — would take on a Christmas song…
…Or maybe not surprising at all, at least as he did it. For the lyrics to his "Twelve Gifts of Christmas" (the fourth selection added this year, #74 overall) brilliantly limn the commercial kitsch of the era's mass-produced consumer goods. I don't think all the references are outdated, either. Yes: the Japanese surely have a better reputation for electronics nowadays than they did then, and the obviously joking reference to a "Japanese transistor radio" is almost as quaint as a Currier & Ives print of people visiting Gramma's house over a snowy hillside. But I'm certain that "a calendar book with the name of my insurance man" still rings of truth. And Antiques Roadshow sometimes seems to feature "a statue of a lady with a clock where her stomach ought to be" once a month. Good stuff, this song is, especially with lines so hilariously overstuffed with syllables (and with parenthetical spoken asides like, "And it comes in a leatherette case with holes in it, So you can listen right through the case").
"The Twelve Gifts of Christmas" was trotted out annually whenever radio DJs wanted to lighten the mood in their otherwise conventional holiday playlists. I can't believe it's taken me this long to include it in mine.
By the way, Allan Sherman did not live out his life happily — as I learned from this review of a 2013 biography of him, Overweight Sensation: The Life and Comedy of Allan Sherman. It says, "Sherman was never exactly a rock star, but he managed to flare out like one, killing himself over the course of a decade with food, drink, drugs, sex, and heartbreak. He walked out on his wife and kids. His creative output turned to junk… Sherman died of a heart attack at 48, in 1973, with all his albums out of print." In a word: Sheesh.
—
This year's list includes one other (to me) surprising addition: The Pogues' "Fairytale of New York" (1988).
Oh, I knew of the song. It's become rather hard to ignore; it seems to have shown up on every "best Christmas songs of all time" list of the last few years. But I'm something of a stick-in-the-mud on some things… When I first saw it mentioned, and not recognizing the name of the band, I looked them up. Oh, I thought, they're punk rockers. You could almost hear me sneering; punk is one musical genre which I have assiduously avoided from the outset.
Still, I listened to it then — to a few bars of it, anyhow. Did not like the lead singer's voice at all. Was depressed by the lyrics I heard. Nope, I thought… and crossed it off my list for good.
So then the 2015 holiday season rolls into town, with the usual blitz of glitzy TV specials. (Allan Sherman would have loved them.) Among them this year: the really not very memorable A Very Murray Christmas (Netflix). In it, Bill Murray is joined by a bunch of pals in a rather weak storyline supporting their mostly forgettable crooning of Christmas songs.
Mostly forgettable, I say. For one, Miley Cyrus was surprisingly listenable (although I still winced to see her).
…and for another, buried somewhere in the middle, was a scene in a New York City piano bar. Murray is at the piano, singing with Paul Shaffer, David Johanssen, Jason Schwartzman, Rashida Jones, and other cast members. And they're singing a Christmas song I don't recognize… a song whose lyrics (as the closed captions tell me) are a fair cut above the standard for TV-written Christmas music. "They've got cars/Big as bars/They've got rivers of gold… The boys of the NYPD choir/Were singing 'Galway Bay'": say what?)
(For what it's worth, you can see that scene on YouTube, for now. Gods know if it'll still be there next year…)
There followed some instant research (gotta love smartphones!). And then some further listens… and so here "Fairytale of New York" is, finally. You know what? It really did reward multiple playbacks, and now — sandwiched between Julie Andrews and Allan Sherman — it feels like a natural addition to the list.
—
As always, whether you're a familiar visitor here or an utter stranger, thanks for stopping by at Running After My Hat. Here's to a wonderful couple of holiday weeks — and to a happy 2016, with lots of what we (think we) want… and maybe some nice surprises, too!
Send to Kindle