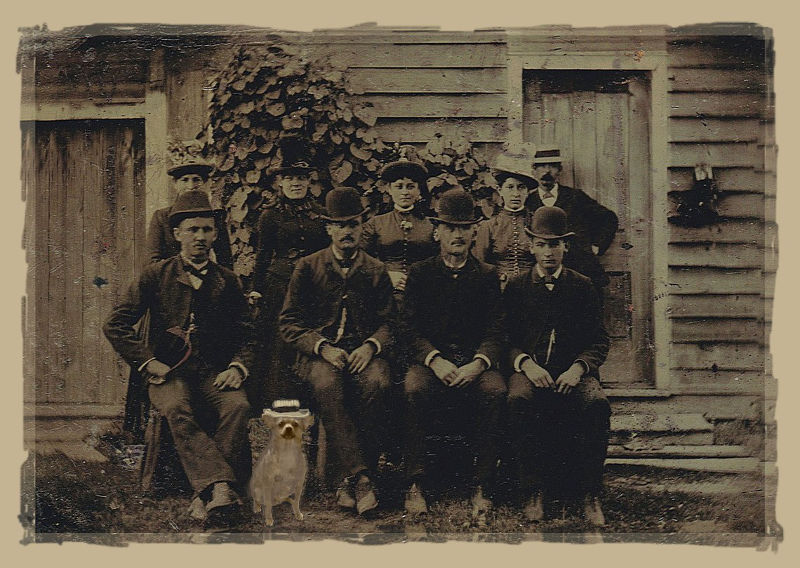 [Image: "Time Traveler," by user PINKÉ on Flickr.com. (Used here under a Creative Commons license (thank you).) The photographer's caption: "Chuck used his time machine to travel back in time. He was shocked to discover there wasn't any air conditioning. He was glad to get back. July 2013." Chuck seems to have had many adventures in geography, although as far as I can tell this has been his only one in time.]
From whiskey river (italicized lines):
On Velvet Turf

I dash outdoors so I will know
a little more about the day—
I stride forth filled with the whiff.
What's to know is always a little to the left,
deep in the vine-covered hole of a hedgehog down
by the mossy stump. If something is impaled down there
I want to know. I don't mind throwing myself
into the cistern of the Middle Ages.
Who knows, here once the embattled farmers stood,
their gallant foreheads broadly glistening.
I've read whole books standing up naked.
I've bragged all my life of the glories
I had in common with the rest of the world,
glories that fled through the windfields
and raked rivers, through the sere leaves
of the trees—
now that the broken gravy boat will sail no more
and the electric fence electrify no one,
now that the crepitating rain has come
and the winter lilt departed, it is time
to come out of my hole—
though the stars take me back
more than I am willing to admit.
(Mary Ruefle [source])
…and:
Art alone makes life possible—this is how radically I should like to formulate it. I would say that without art man is inconceivable in physiological terms. There is a certain materialist doctrine which claims that we can dispense with mind and with art because man is just a more or less highly developed mechanism governed by chemical processes. I would say man does not consist only of chemical processes, but also of metaphysical occurrences. The provocateur of the chemical processes is located outside the world. Man is only truly alive when he realizes he is a creative, artistic being.
(Joseph Beuys [source])
Not from whiskey river:
Imaginary Countries: The Real World

In the real world
lovers part at morning with a kiss
and look back longingly
before they pass from sight.

They go insouciant to work
and smile at times;
their life's Vivaldi.

Others bring what poetry they can into a life
by counting days
until employment comes again.
They look at cherries in the fruit store and imagine
biting in. They look so good.

Children break from singing in the drill hall,
burst outside to toss their frisbees in the park.
A boy plays Satie on the piano;
two Americans embrace
as traffic whispers up the drive.
They are embarking for the real world's farthest shore.

In the real world
someone signs petitions
every moment, tidies other people's trash
and greets another who is loved by someone else.
This is how the real world copes with being economics,
mathematics and ecology and botany
and waiting for the bus.

Costumed people earn their living slipping
from the real world to persuade us to buy moon-cakes,
supple skin and perfect hair.
We smile to see them aping us.

Gymnorhina tibicen swoops low and boasts her turf:
the children run and shout out, 'Magpie'
while the bird recalls the day in mimic song;
order then restored, she dines alfresco on their scraps.

And while we watch Magritte's sky turn El Greco,
roofs de Chirico beneath the plastic clouds,
a plane is pasted on a sudden patch of blue.
(Michael Sharkey [source])
…and (italics in original):
…as soon as we renounce fiction and illusion, we lose reality itself; the moment we subtract fictions from reality, reality itself loses its discursive-logical consistency.
(Slavoj Žižek [source])
…and:
Dreams

Despite the geologists' knowledge and craft,
mocking magnets, graphs, and maps—
in a split second the dream
piles before us mountains as stony
as real life.

And since mountains, then valleys, plains
with perfect infrastructures.
Without engineers, contractors, workers,
bulldozers, diggers, or supplies—
raging highways, instant bridges,
thickly populated pop-up cities.

Without directors, megaphones, and cameramen—
crowds knowing exactly when to frighten us
and when to vanish.

Without architects deft in their craft,
without carpenters, bricklayers, concrete pourers—
on the path a sudden house just like a toy,
and in it vast halls that echo with our steps
and walls constructed out of solid air.

Not just the scale, it's also the precision—
a specific watch, an entire fly,
on the table a cloth with cross-stitched flowers,
a bitten apple with teeth marks.

And we—unlike circus acrobats,
conjurers, wizards, and hypnotists—
can fly unfledged,
we light dark tunnels with our eyes,
we wax eloquent in unknown tongues,
talking not with just anyone, but with the dead.

And as a bonus, despite our own freedom,
the choices of our heart, our tastes,
we're swept away
by amorous yearnings for—
and the alarm clock rings.

So what can they tell us, the writers of dream books,
the scholars of oneiric signs and omens,
the doctors with couches for analyses—
if anything fits,
it's accidental,
and for one reason only,
that in our dreamings,
in their shadowings and gleamings,
in their multiplings, inconceivablings,
in their haphazardings and widescatterings
at times even a clear-cut meaning
may slip through.
(Wislawa Szymborska; translated by Clare Cavanagh and Stanislaw Baranczak [source])
…and:
#4: Human memory has little to do with what has happened. Mostly, it records what has been imagined.
(JES, Maxims for Nostalgists)
Send to Kindle