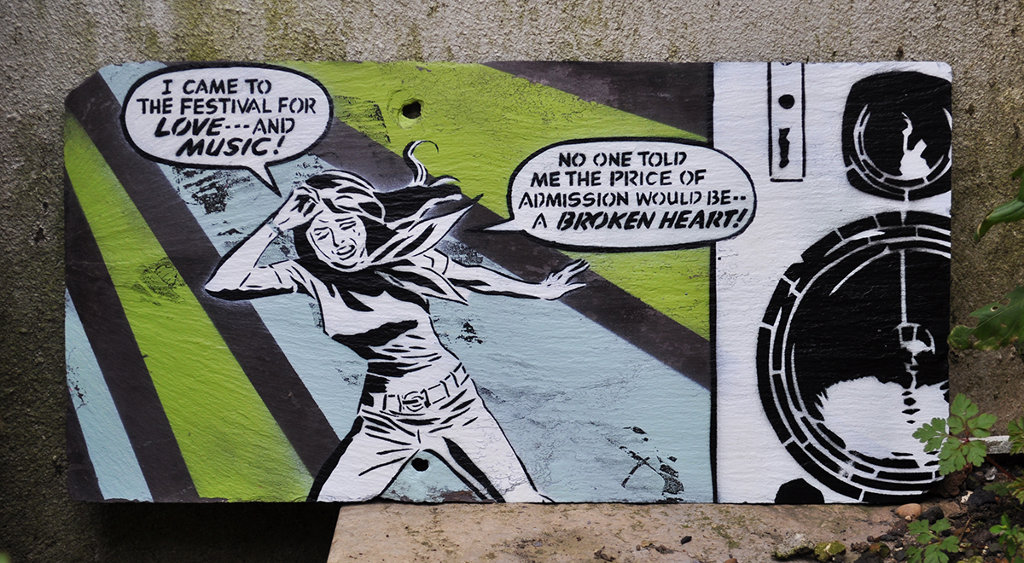 [Image: "I came to the festival for love," by user id-iom on Flickr; used here under a Creative Commons license (thank you!). This is a photo of a work of street art, one of a so-called "mixtape project": the artist (who is the photographer) has created various images on rectangles of slate — to the back of each of which s/he has mounted a CD of a mixtape of one sort or another. When finished, the artworks are (were?) simply placed out in public settings, where they may be freely collected by any passerby who wants them. See the complete album here. For a little more information, see the project's Facebook page, which (I think!) is publicly accessible.]
From whiskey river (italicized portion):
Rapids

Fall's leaves are redder than
spring's flowers, have no pollen,
and also sometimes fly, as the wind
schools them out or down in shoals
or droves: though I
have not been here long, I can
look up at the sky at night and tell
how things are likely to go for
the next hundred million years:
the universe will probably not find
a way to vanish nor I
in all that time reappear.
(A. R. Ammons [source])
…and:
…unfortunately, it's true: time does heal. It will do so whether you like it or not, and there's nothing anyone can do about it. If you're not careful, time will take away everything that ever hurt you, everything you have ever lost, and replace it with knowledge. Time is a machine: it will convert your pain into experience. Raw data will be compiled, will be translated into a more comprehensible language. The individual events of your life will be transmuted into another substance called memory and in the mechanism something will be lost and you will never be able to reverse it, you will never again have the original moment back in its uncategorized, preprocessed state. It will force you to move on and you will not have a choice in the matter.
(Charles Yu [source])
…and:
On the Outskirts of Work

In the middle of work
we start longing fiercely for wild greenery,
for the Wilderness itself, penetrated only
by the thin civilization of the telephone wires.

*

The moon of leisure circles the planet Work
with its mass and weight.—That's how they want it.
When we are on the way home the ground pricks up its ears.
The underground listens to us via the grassblades.

*

Even in this working day there is a private calm.
As in a smoky inland area where a canal flows:
THE BOAT appears unexpectedly in the traffic
or glides out behind the factory, a white vagabond.

*

One Sunday I walk past an unpainted new building
that stands in front of a grey wet surface.
It is half finished. The wood has the same light color
as the skin on someone bathing.

*

Outside the lamps the September night is totally dark.
When the eyes adjust, there is faint light
over the ground where large snails glide out
and the mushrooms are as numerous as the stars.
(Tomas Tranströmer [source])
Not from whiskey river:
If we see our so-called limitations with clarity, precision, gentleness, goodheartedness, and kindness and, having seen them fully, then let go, open further, we begin to find that our world is more vast and more refreshing and fascinating than we had realized before. In other words, the key to feeling more whole and less shut off and shut down is to be able to see clearly who we are and what we're doing.
…and:
The innocent mistake that keeps us caught in our own particular style of ignorance, unkindness, and shut-downness is that we are never encouraged to see clearly what is, with gentleness. Instead, there's a kind of basic misunderstanding that we should try to be better than we already are, that we should try to improve ourselves, that we should try to get away from painful things, and that if we could just learn how to get away from the painful things, then we would be happy. That is the innocent, naive misunderstanding that we all share, which keeps us unhappy.
…and:
Meditation is about seeing clearly the body that we have, the mind that we have, the domestic situation that we have, the job that we have, and the people who are in our lives. It's about seeing how we react to all these things. It's seeing our emotions and thoughts just as they are right now, in this very moment, in this very room, on this very seat. It's about not trying to make them go away, not trying to become better than we are, but just seeing clearly with precision and gentleness…

The problem is that the desire to change is fundamentally a form of aggression toward yourself. The other problem is that our hangups, unfortunately or fortunately, contain our wealth. Our neurosis and our wisdom are made out of the same material. If you throw out your neurosis, you also throw out your wisdom.
(Pema Chödrön [source (all three excerpts)])
Send to Kindle