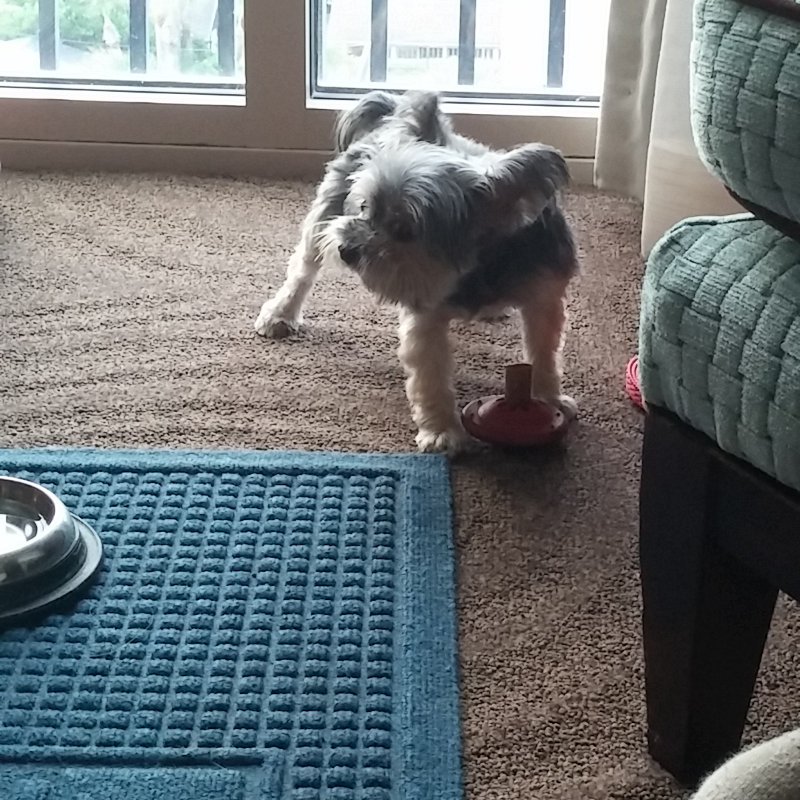 [Image: The Pooch (12/26/2006-09/04/2017). Photo taken 8/21/2017. She was an unwilling photographic subject: if you held up a smartphone or camera in her direction — which you always wanted to do, you couldn't help it — she'd turn her head aside, as here, while keeping a gimlet eye trained on you. She was a cute dog, often involved in cute activities, but the only way to document them was to shoot a bazillion shots and just pray that one would be suitable.]
No whiskey river Friday this week; I just cannot work up the enthusiasm.
The Pooch (that is to say, Sophie) died this past Monday morning, towards the tail end of a long weekend for all three of us. She was all right, and then she wasn't.
Okay, true: she wasn't "all right" healthwise — but then again, she never had been. Small dogs often have breathing problems of one sort or another. In The Pooch's case, she had an issue called "collapsing trachea": the windpipe over time slackens, just at a point where it bends. Eventually, it slackens enough to close up completely, with the expected results. One of the chief early symptoms of a collapsing trachea is occasional coughing, often in the form of so-called "reverse coughing": it sounds sorta like a cough, sorta like a sneeze, and often has hints of a goose's honk. So we knew, early on, that eventually the problem would take her.
(It's not "treatable," by the way. Oh, you can administer cover-ups like cough suppressants. Surgically, a couple of things can be done, to strengthen the trachea artificially. They all come with potential side-effects and, in some cases, the side-effects can be much, much worse than the condition itself. Even so, surgical options were out of the question for The Pooch: she was so small, and the risks bloomed proportionately.)
But knowing that something awful will happen seldom seems to fully prepare you for its, well, happening. The Missus and I have spent the week in a fog of crying jags triggered by nothing in particular except the weight of a new, awful, sudden vacancy. (I think today was the first time I've ever broken down while taking a shower, surrounded by nothing at all to remind me of her except, yes, that very vacancy.) We've lost other pets. And yes, we'll come out of this grief eventually — but boy, this one has hit us hard.
In the wake of Monday's events, I received via email a poem which the sender did not write, but had taken comfort from herself. As it happens, the poet has been featured here before — and yes, on numerous whiskey river Fridays. (A beannacht is a blessing, a benediction.)
Beannacht

On the day when
The weight deadens
On your shoulders
And you stumble,
May the clay dance
To balance you.

And when your eyes
Freeze behind
The grey window
And the ghost of loss
Gets into you,
May a flock of colours,
Indigo, red, green
And azure blue,
Come to awaken in you
A meadow of delight.

When the canvas frays
In the currach of thought
And a stain of ocean
Blackens beneath you,
May there come across the waters
A path of yellow moonlight
To bring you safely home.

May the nourishment of the earth be yours,
May the clarity of light be yours,
May the fluency of the ocean be yours,
May the protection of the ancestors be yours.

And so may a slow
Wind work these words
Of love around you,
An invisible cloak
To mind your life.
(John O'Donohue [source])
The wind is slow, yes. May the wind and the cloak help. May they help.
Send to Kindle