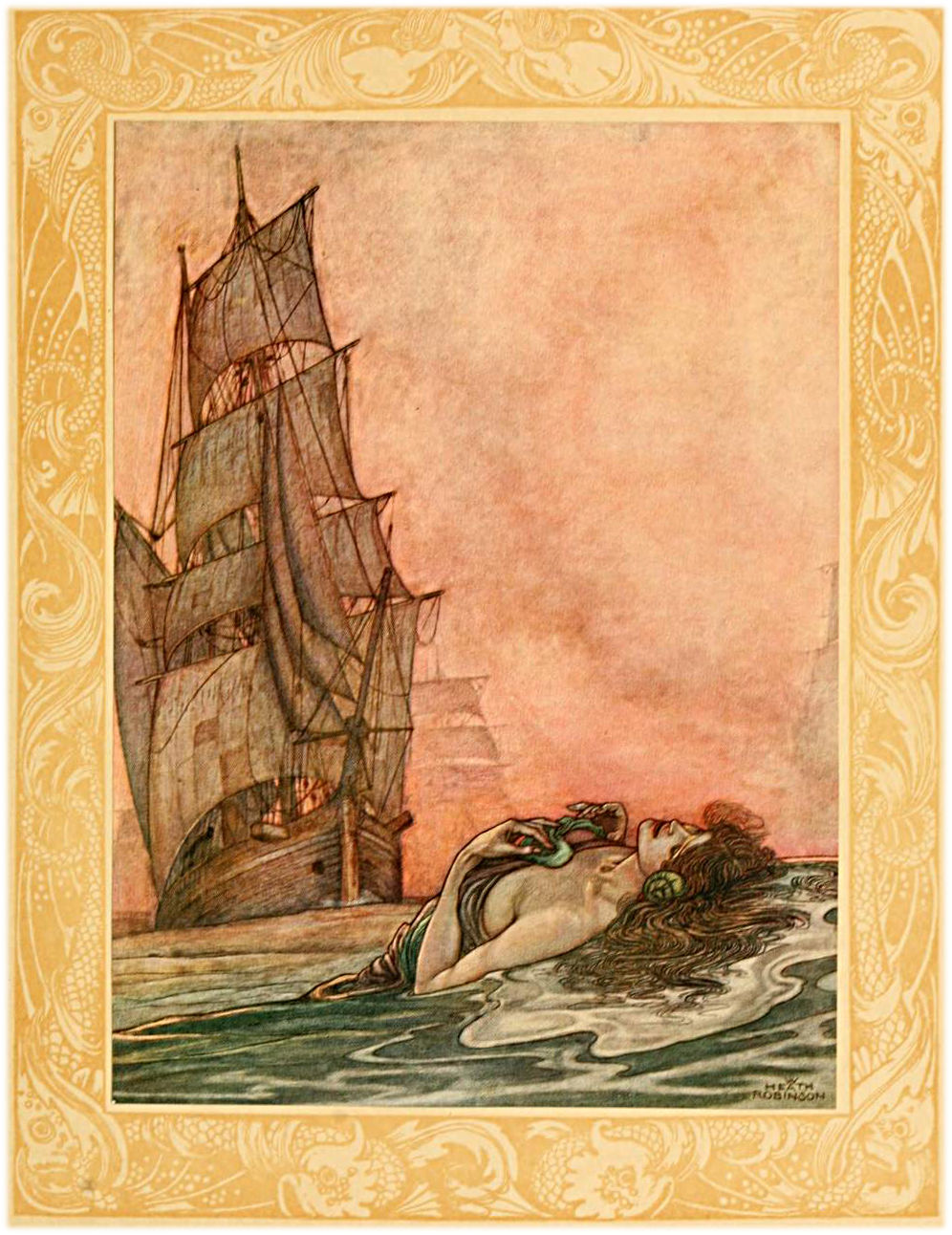 [Image: Illustration by W. Heath Robinson, from Rudyard Kipling's A Song of the English (1909). (Found it at the Internet Archive.)]
From whiskey river:
Afterlife

There is no life after death. Why
should there be. What on

earth would have us believe this.
Heaven is not the American

highway, blackened chicken alfredo
from Applebee's nor the

clown sundae from Friendly's. Our
life, this is the afterdeath,

when we blink open, peeled and
ready to ache. Years ago

my aunt banged on the steering, she
insisted there had to be a

God, a heaven. We were on our
way to a wedding. I would

have to sit at the same table as the
man who saw no heaven

in me. Today I am thinking about
Mozart, of all people, who

died at 35 mysteriously, perhaps of
strep. What a strange cloth

it is to live. But that we came from
death and return to it, made

different by form, shaped again back
into anti-, anti-. On my run,

I think of Jack Gilbert, who said we
must insist while there is still

time, but insist toward what. Why we
must fill the void with light—

isn't that our human insistence? But
we drift into a distance of

distance until proximity fails, our
name lifts away with any

future concerns, the past a flattened
coin that cannot spin. I am

matter spun from death's wool—and
I bewilder the itch, I who am

I am just so happy to go.
(Natalie Eilbert [source])
…and:
Often we feel time to be linear, inexorable, suffocating. At other moments we find it oceanic. We kind of swim in it. We expect physicists to come up with an explanation, but we don't find one, and come back to our intuitive use of the concept. But there are also moments when time appears to be, to say it in one way, both vertical and horizontal, both "single-minded," monotonous, unalterable, and multi-dimensional, infinite. When a few people come together, I often have wondered if each person's amount of years was not being added to the amount of years of all the others, so that we were representing together much more than our single self. And if you add up the simultaneous ages of people, animals, plants, objects, the age of celestial bodies and so on, you realize that we are living in the unfolding of the infinite. But why bother? I think because we need to keep in mind the immensity of being, in spite of our fragility and mortality.
(Etel Adnan [no canonical source])
…and:
Apologia Pro Vita Sua
III
(excerpt)

It's good to know certain things:
What's departed, in order to know what's left to come;
That water's immeasurable and incomprehensible

And blows in the air
Where all that's fallen and silent becomes invisible;
That fire's the light our names are carved in.

That shame is a garment of sorrow;
That time is the Adversary, and stays sleepless and wants for nothing;
That clouds are unequal and words are.
(Charles Wright [source])
Not from whiskey river:
A wave on the ocean has a beginning and an end, a birth and a death. But […] the wave is empty. The wave is full of water, but it is empty of a separate self. A wave is a form which has been made possible thanks to the existence of wind and water. If a wave only sees its form, with its beginning and end, it will be afraid of birth and death. But if the wave sees that it is water, identifies itself with water, then it will be emancipated from birth and death. Each wave is born and it is going to die, but the wave is free of birth and death.
(Thich Nhat Hanh [source])
…and:
Invitation

Come in, come in. The water's fine! You can't get lost
here. Even if you want to hide behind a clutch
of spiny oysters — I'll find you. If you ever leave me
at night, by boat, you'll see the arrangement

of red-gold sun stars in a sea of milk. And though
it's tempting to visit them — stay. I've been trained
to gaze up all my life, no matter the rumble
on earth, but I learned it's okay to glance down

into the sea. So many lessons bubble up if you know
where to look. Clouds of plankton churning
in open whale mouths might send you east
and chewy urchins will slide you west. Squid know

how to be rich when you have ten empty arms.
Can you believe there are humans who don't value
the feel of a good bite and embrace at least once a day?
Underneath you, narwhals spin upside down

while their singular tooth needles you
like a compass pointed towards home. If you dive
deep enough where imperial volutes and hatchetfish
swim, you will find all the colors humans have not yet

named, and wide caves of black coral and clamshell.
A giant squid finally let itself be captured
in a photograph, and the paper nautilus ripple-flashes
scarlet and two kinds of violet when it silvers you near.

Who knows what will happen next? And if you still want
to look up, I hope you see the dark sky as oceanic —
boundless, limitless — like all the shades of blue in a glacier.
Listen how this planet spins with so much fin, wing, and fur.
(Aimee Nezhukumatathil [source])
Send to Kindle