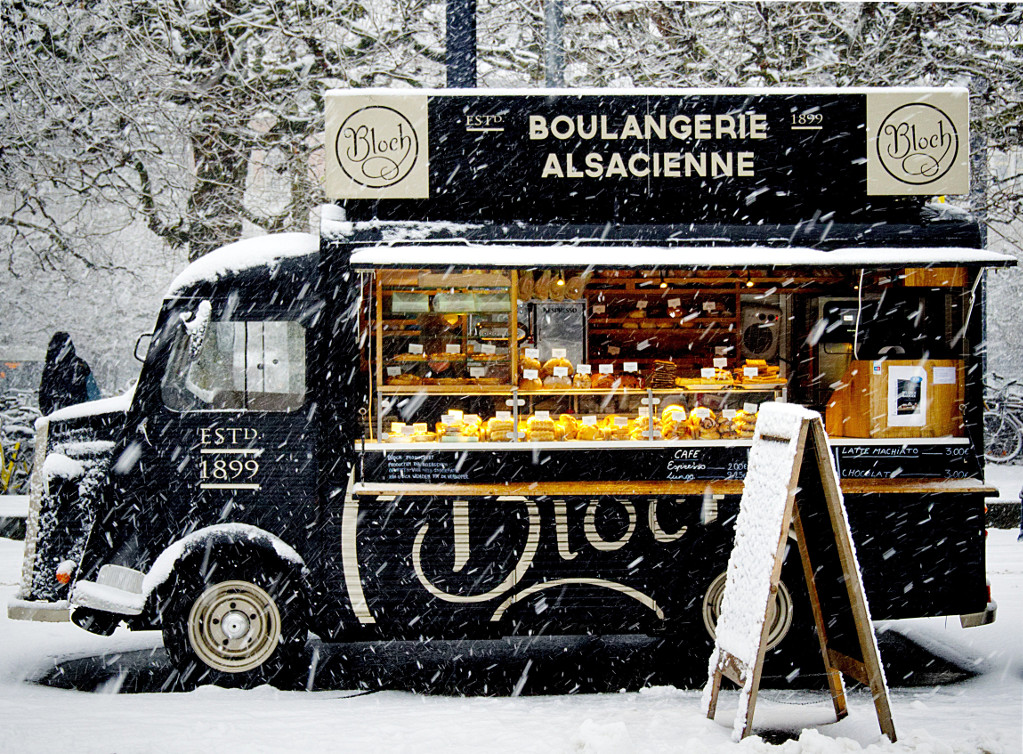 [Image: "Black Boulangerie Alsacienne Food Truck," by Tuur Tisseghem. (Found it at Pexels; thanks!)]
From whiskey river (italicized lines):
Skating in Harlem, Christmas Day

To Mary Jo Salter

Beyond the ice-bound stones and bucking trees,
past bewildered Mary, the Meer in snow,
two skating rinks and two black crooked paths

are a battered pair of reading glasses
scratched by the skater's multiplying math.
Beset, I play this game of tic-tac-toe.

Divide, subtract. Who can tell if love surpasses?
Two naughts we've learned make one astonished 0—
a hectic night of goats and compasses.

Folly tells the truth by what it's not—
one X equals a fall I'd not forgo.
Are ice and fire the integers we've got?

Skating backwards tells another story—
the risky star above the freezing town,
a way to walk on water and not drown.
(Cynthia Zarin [source])
…and:
You wake up on a winter morning and pull up the shade, and what lay there the evening before is no longer there — the sodden gray yard, the dog droppings, the tire tracks in the frozen mud, the broken lawn chair you forgot to take in last fall. All this has disappeared overnight, and what you look out on is not the snow of Narnia but the snow of home, which is no less shimmering and white as it falls. The earth is covered with it, and it is falling still in silence so deep that you can hear its silence. It is snow to be shoveled, to make driving even worse than usual, snow to be joked about and cursed at, but unless the child in you is entirely dead, it is snow, too, that can make the heart beat faster when it catches you by surprise that way, before your defenses are up. It is snow that can awaken memories of things more wonderful than anything you ever knew or dreamed.
(Frederick Buechner [source])
Not from whiskey river:
December

The white dove of winter
sheds its first
fine feathers;
they melt

as they touch
the warm ground
like notes
of a once familiar

music; the earth
shivers and
turns towards
the solstice.
(Linda Pastan [source])
…and:
Friday Snow

Something needs to be done—like dragging a big black plastic sack through the upstairs rooms, emptying into it each waste basket, the trash of three lives for a week or so. I am careful and slow about it, so that this little chore will banish the big ones. But I leave the bag lying on the floor and I go into my daughter's bedroom, into the north morning light from her windows, and while this minute she is at school counting or spelling a first useful word I sit down on her unmade bed and I look out the windows at nothing for a while, the unmoving buildings—houses and a church—in the cold street.
Across it a dark young man is coming slowly down the white sidewalk with a snowshovel over his shoulder. He's wearing a light coat, there's a plastic showercap under his dirty navy blue knit hat, and at a house where the walk hasn't been cleared he climbs the steps and rings the doorbell and stands waiting, squinting sideways at the wind. Then he half wakes and he says a few words I can't hear to the storm door that doesn't open, and he nods his head with the kindly farewell that is a habit he wears as disguise, and he goes back down the steps and on to the next house. All of this in pantomime, the way I see it through windows closed against winter and the faint sounds of winter.
My daughter's cross-eyed piggy bank is also staring out blankly, and in its belly are four dollar bills that came one at a time from her grandmother and which tomorrow she will pull out of the corked mouthhole. (It's not like the piggy banks you have to fill before you empty them because to empty them you have to smash them.) Tomorrow she will buy a perfect piece of small furniture for her warm well-lit dollhouse where no one is tired or weak and the wind can't get in.
Sitting on her bed, looking out, I didn't see a bundled-up lame child out of school and even turned out of the house for a while, or a blind woman with burns or a sick bald veteran—people who might have walked past stoop-shouldered with what's happened and will keep happening to them. So much limping is not from physical pain—the pain is gone now, but the leg's still crooked. The piggy bank and I see only the able young man whose straight back nobody needs.
When he finally gets past where I can see him, it feels as if a kind of music has stopped, and it's more completely quiet than it was, an emptiness more than a stillness, and I get up from the rumpled bed and I smooth the covers, slowly and carefully, and I look around the room for something to pick up or straighten, and I take a wadded dollar bill from my pocket and put it into the pig and I walk out.
(Reginald Gibbons [source])
…and:
Due to the centers of power and population being located in the northern hemisphere, the Northern Winter Solstice has been accepted as the end of the year. To Northerners, nothing could seem more natural than the association of winter with closure, while Southerners are experiencing the heat and vigor of midsummer. Those of us from the tropics where it is always summer, can afford to be ambivalent about this, or perhaps enjoy a broader perspective, as we accept the hegemony of the Gregorian Calendar while being able to relate to Christmas and its distinctively northern European trappings, so totally inappropriate in the sunshine.

All this just reminds me how arbitrary time, and the meaning we give to it, is. December, originally the tenth month, in the human and, therefore, subjective, order of things, is as good a time as any to pause and recollect, renew contact and catch up on each other…

We know not what the New Year may bring; the world may very well be at war as the axes of "good" and "evil" confront each other. There are no certainties; there never were… What we are left with then is to appreciate the moment we are in. This is the best time to be alive, because we are, and to enjoy it to the fullest, because we can.
(Larry Chang [source])
Send to Kindle