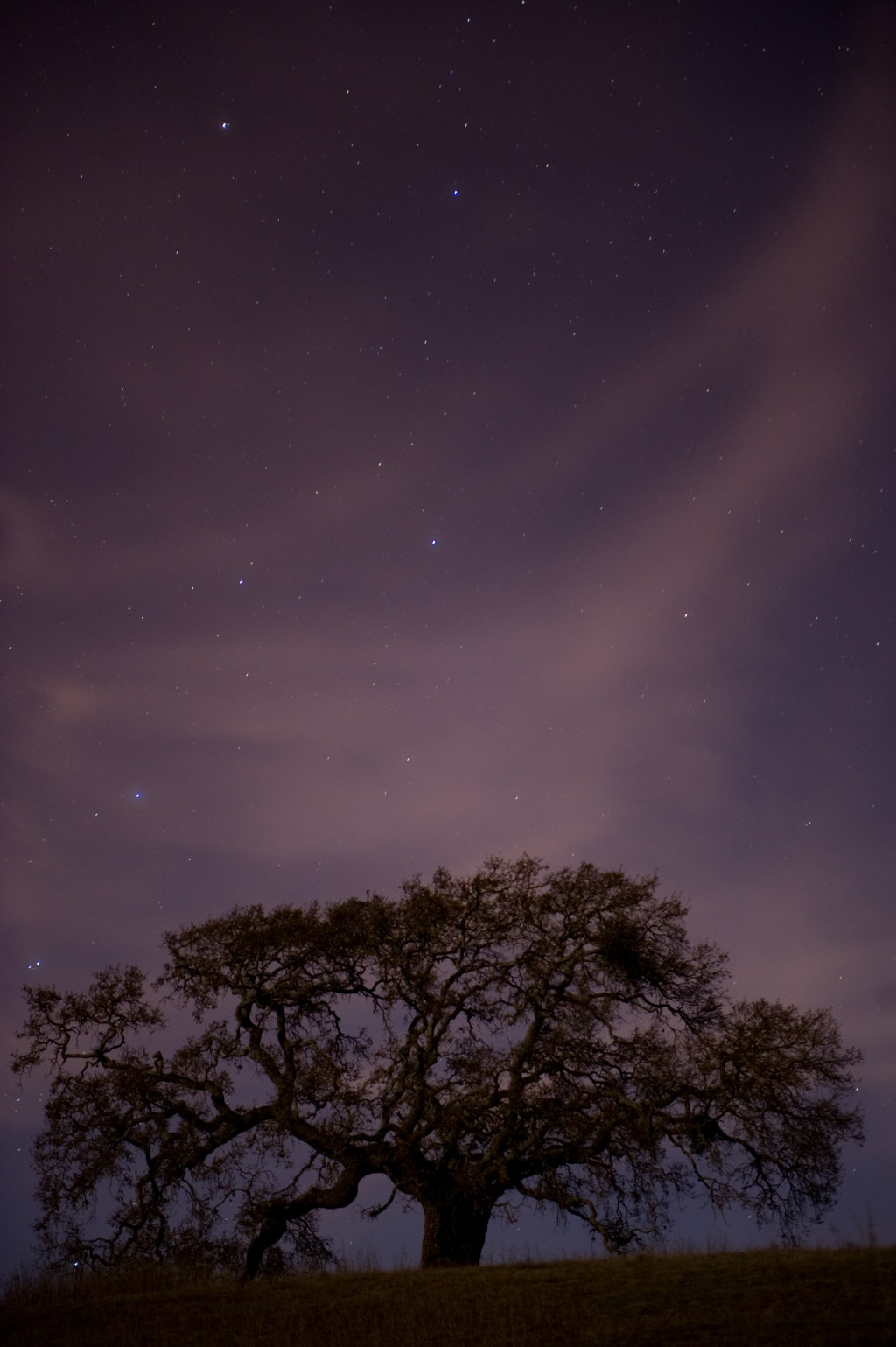 [Image: "The Great Bear and the Live Oak," by Justin Kern. (Found it on Flickr, and using it here via a Creative Commons license — thank you!) The photographer says that the image puts him in mind of Paul Simon's "The Boy in the Bubble":  "These are the days of miracle and wonder / This is the long distance call / The way the camera follows us in slo-mo / The way we look to us all…"]
From whiskey river:
In winter you wake up in this city, especially on Sundays, to the chiming of its innumerable bells, as though behind your gauze curtains a gigantic china tea set were vibrating on a silver tray in the pearl-gray sky. You fling the window open and the room is instantly flooded with this outer, pearl-laden haze, which is part damp oxygen, part coffee and prayers. No matter what sort of pills, and how many, you've got to swallow this morning, you feel it's not over for you yet. No matter, by the same token, how autonomous you are, how much you've been betrayed, how thorough and dispiriting in your self-knowledge, you assume there is still hope for you, or at least a future. (Hope, said Francis Bacon, is a good breakfast but bad supper.) This optimism derives from the haze, from the prayer part of it, especially if it's time for breakfast. On days like this, the city indeed acquires a porcelain aspect, what with all its zinc-covered cupolas resembling teapots or upturned cups, and the tilted profile of campaniles clinking like abandoned spoons and melting in the sky. Not to mention the seagulls and pigeons, now sharpening into focus, now melting into air. I should say that, good though this place is for honeymoons, I've often thought it should be tried for divorces also – both in progress and already accomplished. There is no better backdrop for rapture to fade into; whether right or wrong, no egoist can star for long in this porcelain setting by crystal water, for it steals the show. I am aware, of course, of the disastrous consequence the above suggestion may have for hotel rates here, even in winter. Still, people love their melodrama more than architecture, and I don't feel threatened. It is surprising that beauty is valued less than psychology, but so long as such is the case, I'll be able to afford this city – which means till the end of my days, and which ushers in the generous notion of the future.
(Joseph Brodsky [source])
…and (italicized portion):
I'm not telling you to make the world better, because I don't think that progress is necessarily part of the package. I'm just telling you to live in it. Not just to endure it, not just to suffer it, not just to pass through it, but to live in it. To look at it. To try to get the picture. To live recklessly. To take chances. To make your own work and take pride in it. To seize the moment. And if you ask me why you should bother to do that, I could tell you that the grave's a fine and private place, but none I think do there embrace. Nor do they sing there, or write, or argue, or see the tidal bore on the Amazon, or touch their children. And that's what there is to do and get it while you can and good luck at it.
(Joan Didion [source])
Not from whiskey river:
Poems
(excerpt)

iii

On the day when the lotus bloomed, alas, my mind was straying, and I knew it not. My basket was empty and the flower remained unheeded.

Only now and again a sadness fell upon me, and I started up from my dream and felt a sweet trace of a strange smell in the south wind.

That vague fragrance made my heart ache with longing, and it seemed to me that it was the eager breath of the summer seeking for its completion.

I knew not then that it was so near, that it was mine, and this perfect sweetness had blossomed in the depth of my own heart.

vi

Thou art the sky and thou art the nest as well. Oh, thou beautiful, there in the nest it is thy love that encloses the soul with colors and sounds and odors. There comes the morning with the golden basket in her right hand bearing the wreath of beauty, silently to crown the earth. And there comes the evening over the lonely meadows deserted by herds, through trackless paths, carrying cool draughts of peace in her golden pitcher from the western ocean of rest.

But there, where spreads the infinite sky for the soul to take her flight in, reigns the stainless white radiance. There is no day nor night, nor form nor color, and never never a word.
(Rabindranath Tagore [source])
…and:
Route 684, Southbound Rest Stop

So you see why it could not have been a more humble moment.
If there was any outward sign of regalia
It might have been the twilight crowning of the day, just then,
A perfect moment of dusk, but changing, as a wave does
Even as you admire it. Because the southbound stop
Mirrors the one northbound where we so often find ourselves
At the beginning, southbound's return holds the memory
Of northbound's setting-out, and the grassy median between
With its undisturbed trees defines an elusive strip of the present
Where no one lives. After twenty-eight years of the trip,
It's like two beakers of colored water — one green, one blue —
Have poured themselves back and forth, because
On one side we are tinted by remembering the other.
But this aspect of the journey, at least, we know we will repeat.
As dusk cohered that moment — aquas, pinks, violets —
Just at that moment as I was returning to the car
A woman came the other way, her two young daughters
Holding her hands, and the gloaming sparkled around them
So that I froze, as they were backlit, starry,
They were the southbound reminder of who I had been beginning
The trip. She didn't look like me, but what I did recognize
Was her clarity of purpose, in what Sharon Olds called
the days of great usefulness, making life as nice
As she could for them, always writing the best story,
And also, beneath her skin, living with delight as quiet
As the shoots anchoring grass beneath the earth.
I walked back to my car. My husband sat in the driver's seat,
Our weekend's luggage thrown in back.
Tell me we really had those girls, I said,
and that they held my hands like that. When I got home
I pictured her helping them each into bed — I knew it was
Later than she had hoped — then reading
Each section of the paper's terrible news, finally alone.
(Jessica Greenbaum [source])
Send to Kindle