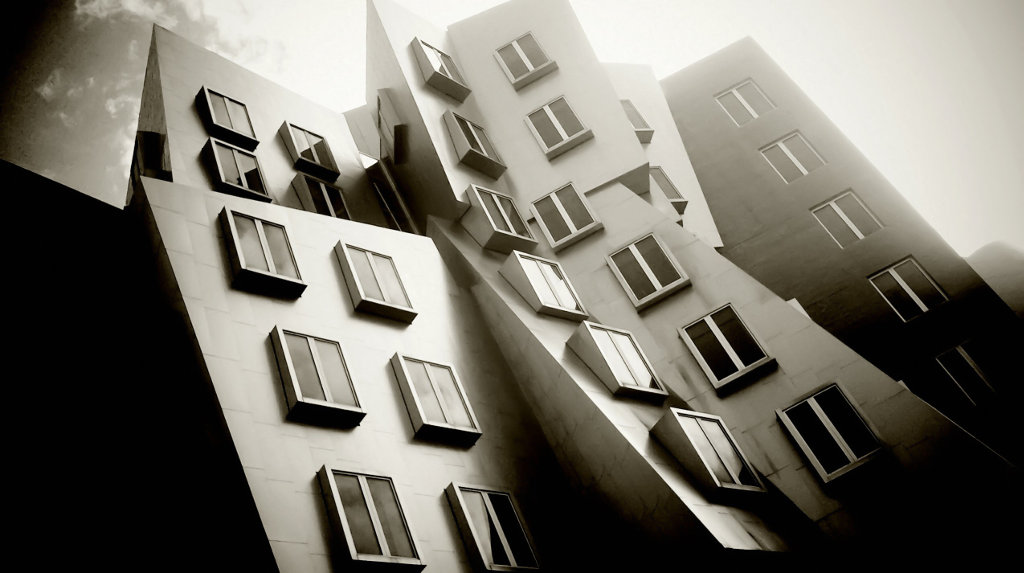 [Image: "I Know I See You, I Just Don't Know When," by Thomas Hawk; found on Flickr.com, used here under a Creative Commons license. The photograph shows one view of the Stata building at MIT, designed by Frank Gehry. The building houses various facilities in support of research into computers, information science, intelligence, robotics, and related topics. More in the note at the foot of this post.]
From whiskey river:
There is, in sanest hours, a consciousness, a thought that rises, independent, lifted out from all else, calm, like the stars, shining eternal. This is the thought of identity—yours for you, whoever you are, as mine for me. Miracle of miracles, beyond statement, most spiritual and vaguest of earth's dreams, yet hardest basic fact, and only entrance to all facts. In such devout hours, in the midst of the significant wonders of heaven and earth, (significant only because of the Me in the centre) creeds, conventions, fall away and become of no account before this simple idea. Under the luminousness of real vision, it alone takes possession, takes value. Like the shadowy dwarf in the fable, once liberated and look'd upon, it expands over the whole earth, and spreads to the roof of heaven.
(Walt Whitman [source])
…and:
It would be an endless battle if it were all up to ego
because it does not destroy and is not destroyed by itself
It is like a wave
it makes itself up; it rushes forward getting nowhere really
it crashes, withdraws and makes itself up again
pulls itself together with pride
towers with pride
rushes forward into imaginary conquest
crashes in frustration
withdraws with remorse and repentance
pulls itself together with new resolution.
(Agnes Martin [source])
…and:
To open our eyes, to see with our inner fire and light, is what saves us. Even if it makes us vulnerable. Opening the eyes is the job of storytellers, witnesses, and the keepers of accounts. The stories we know and tell are reservoirs of light and fire that brighten and illuminate the darkness of human night, the unseen.
(Linda Hogan [source])
Send to Kindle