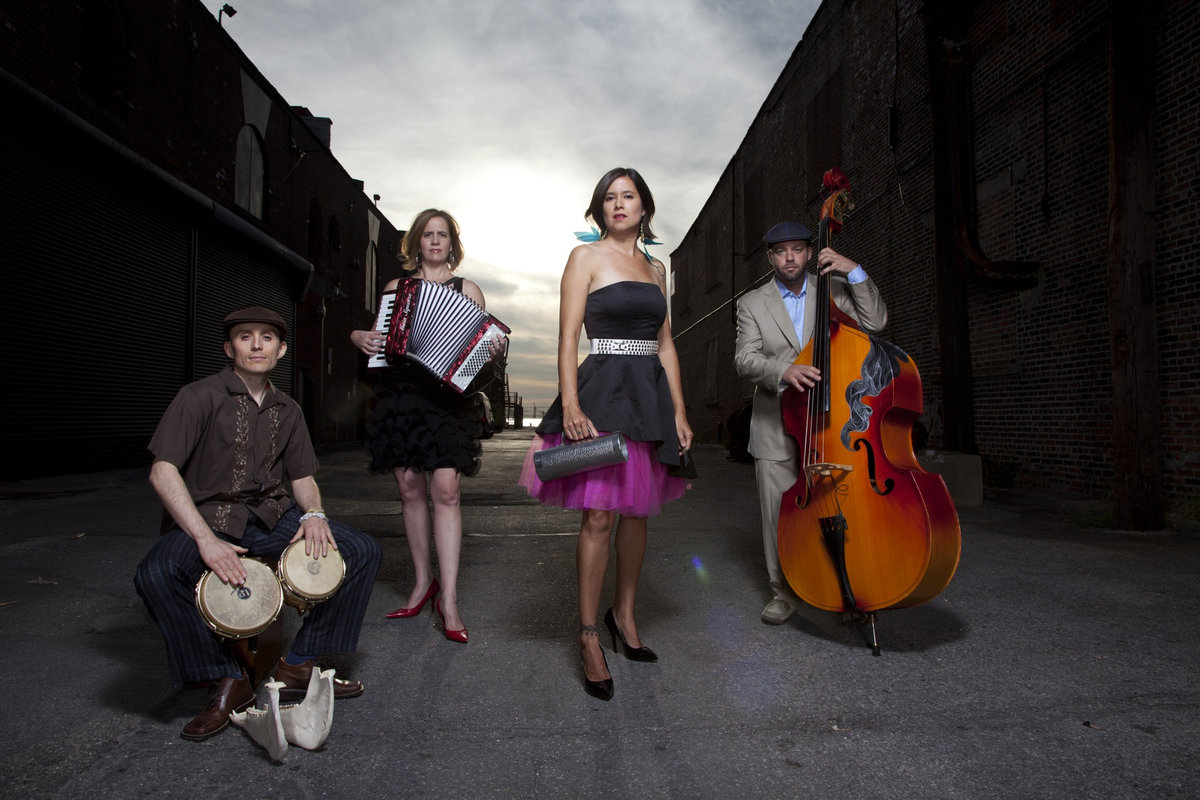 As I mentioned a few weeks ago, I've had the opportunity to research and write for Deep Roots Magazine about music, particularly "Americana" music: music performed generally using acoustic instruments, something like country, something like folk, sometimes incorporating elements of blues and/or bluegrass, often for small, intimate audiences rather than large-scale ones. It's modest music, and it's music which springs not from glitzy high-flown impulses, but from simple ones.
But — maybe surprisingly — it's not always in English. I'll have more to say about the "international Americana" genre in my next Deep Roots article; in the meantime, I've been spending some time exploring some very interesting and to me wholly unfamiliar niches of American-but-not-American music in general.
Pistolera, strictly speaking, was not an Americana-with-an-a-on-the-end band; the name certainly didn't sound like a typical one. When the band was active, until a few years ago, it was described by at least one source as "Mexamerican," and I guess that was reasonable enough, at least superficially. The lead vocalist and songwriter, Sandra Lilia Velasquez grew up in a Mexican-American household in San Diego; her lyrics with Pistolera were unapologetically in Spanish; the band's instrumentation (drums, upright bass, accordion, soft percussion) said Mexico with each note. But they were based in Brooklyn, New York. And they were ultimately (and apparently by design) hard to classify. As Velasquez told Rolling Stone Mexico (as quoted by Mother Jones), "People think that if you are born in the United States you should play rock and if you are born in Mexico you should play banda. I was born on the border. I play both."
More about Pistolera and Velasquez, below. In the meantime, here's Pistolera, with their evidently final (2011) release, El Desierto Y La Ciudad.
Pistolera: 'El Desierto Y La Ciudad'
Since Pistolera stopped performing and recording, Sandra Lilia Velasquez has branched off more or less on her own. Her main recent project, called "SLV" for obvious reasons, released its first album two years ago. As with Pistolera, SLV has resisted — flat-out defied — categorization. The single whose video appears below was described, on its release, as "Rotoscope-esque visuals meet bouncy synthpop"; as with "Mexamerican" for Pistolera, if you rely on that single verbal description to capture what the SLV album, This Kind, was all about, you'd be in for some honest-to-gods surprises. (You can stream This Kind here, at New Noise Magazine.) Here's an excerpt from an NPR report at the time; the context is an interview by Rachel Martin (NPR Weekend Edition host) with Felix Contreras (host of the networks Alt Latino show):
MARTIN: …I need an alternative music fix. What you got?

CONTRERAS: OK. All right. Let's go back to Latin Alternative but this time with a slight, slight pop sheen. SLV is Sandra Lilia Velasquez. Now for the long time she headed a Mexican folk band with an edge [JES: see? impossible to pigeonhole!] called Pistolera out of Brooklyn. Now she's released two albums on [her] own. She's got a great new album out. She's written and produced the album with her bandmate, a guy named Sean Dixon. And it's a wonderful collection of love songs with a band that shares her musical vision. It's so perfectly executed. It's so perfectly played. This is a track called "Fire Eyes."

(SOUNDBITE OF SLV SONG, "FIRE EYES")

SLV: I will melt you with fire and I, I, all the things you want to be. I won't even have to say them to you, to you.

MARTIN: She has a lovely voice.

CONTRERAS: Doesn't she?

MARTIN: Yeah.

CONTRERAS: And what she did was move from the Pistolera, from the Mexican folk which she sings in Spanish and did an all English album with a lot of different electronic layers and textures. You know, she's not necessarily playing any Latin rhythms or any Mexican rhythms or anything. But it is her expression. Right? And for me it falls within the whole concept of Latin alternative because she's making this music and trying to establish her identity within this contemporary sound.
Here's "Heartbreaker," from SLV's This Kind debut:
Finally, if — as I am — you're now interested enough in Velasquez's creative arc to seek out more of her footsteps along the way, you might also check out her "kindie" group, Moona Luna. From that project's "Bio" page:
Moona Luna delivered something fresh in its sophomore album,Vamos, Let's Go! (2013). Songwriter and bandleader, Sandra Velasquez, found inspiration in American pop hits of the 50's and 60's, and staying true to her bilingual mission, crafted Spanish and English lyrics for each song. Moona Luna has performed all over the country — from the National Mall in Washington D.C. to Madison Square Park in New York City. Their third studio album celebrates their Latin roots and draws on broader musical influences from the African Diaspora. The album's ten upbeat songs chronicle a family bus adventure through South America. P A N O R A M A was released on January 29, 2016 and won a Parents' Choice Award.
Here's a taste — the video for the album's title track:
Send to Kindle