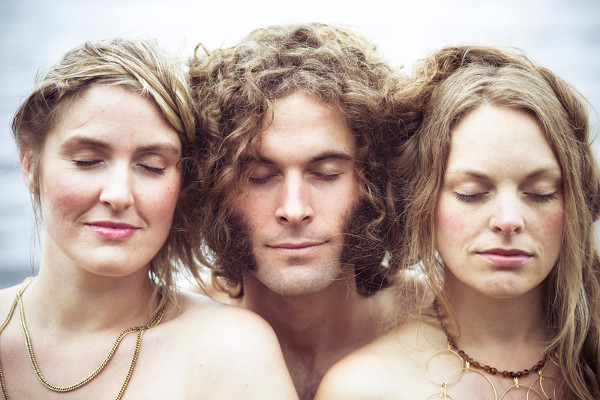 Seattle's Hannalee comprises the almost impossibly photogenic threesome of husband-and-wife Michael Harley* and Anna-Lisa Notter, and childhood friend Fidelia Rowe. When you look at any of their group photos — even without having heard their music, or knowing anything more about them — you might think: Wow. I thought I'd heard of most of the San Francisco groups from the '60s… how'd I miss them?
If you take a gander at some of their other photos, like this one, you may find the San Francisco folk-rockers comparison almost too apt for coincidence.
Looks (as we all know) can be deceiving. But in Hannalee's case, you might not be far off the mark. Oh, they don't specialize at all in psychedelia or any such genres; but the sense of the late '60s is there, all right — the sense of distant possibilities, brought suddenly within reach via music.
It's folk music, sort of, and that's how they seem to identify themselves. (Their Bandcamp profile says: "Blending the sounds of traditional folk music with elements of dark, neverland whimsy, Hannalee creates a unique music strange and familiar at once.") But their three-part harmonies can also verge on something older, even choral. And of course, if they're singing in an old church (Seattle's Fremont Abbey) with strings behind them… The song is "Valhalla," from the first of four seasons-of-the-year EPs (the autumn title, Cucurbita — the pumpkin genus — just released a few months ago):
[Lyrics]
And here's how they sound in the studio, also on the Cucurbita EP; the song is "Never Been to Memphis."
[Below, click Play button to begin Never Been to Memphis. While audio is playing, volume control appears at left — a row of little vertical bars. This clip is 3:28 long.]
Audio clip: Adobe Flash Player (version 9 or above) is required to play this audio clip. Download the latest version here. You also need to have JavaScript enabled in your browser.
[Lyrics]
The series' winter release, Brassica, just came out last week.
By the way, I don't know how they chose the name Hannalee. But The Kingston Trio (among others) recorded a song called "Hanna Lee." (It was written by a Stan Jones — perhaps the one who penned "(Ghost) Riders in the Sky.") The words to that song, at least as performed by the Kingstons, go like this:
Your dusty eyes were soft and glowin' when first I met you, Hanna Lee.
There was no way for me a-knowin' the sorrow your sweet caress would
bring to me.

Chorus:
High, high, high is the gallows. (Yeah, and it's long) long as the rope that
waits for me.
High as the gallows. They'll hang me for your sins, my Hanna Lee.

You shot and killed your cruel husband because you found you loved but me,
And then you lied before the jury and they blamed for your sins, my Hanna Lee.

Chorus:

Down at the jail on hangin' mornin', I heard you tell them you had lied.
Your dusty eyes were soft and glowin' and I saw you hang your head and cry.
I can't quite wrap my head around the idea that this song and Hannalee's ethereal look and sound might be connected, but who knows? Musical history, especially of the folk variety, traces some mysterious pathways.
[Hat tip to Simon of Beat Surrender for the intro to Hannalee.]
_______________
* Is Michael Harley's last name really Harley? It's very confusing: Web sites seem split about 50-50 in identifying him as Michael Notter or Michael Harley. At Bandcamp and their own site, he goes by the latter. I tossed a (loaded) coin.
Send to Kindle