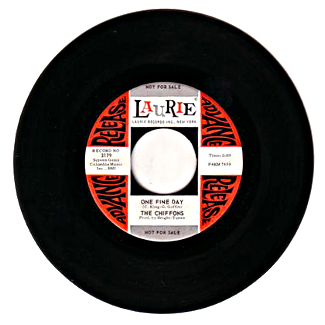 Over the weekend I dedicated a few hours to straightening up my office. As I worked, I listened to the oldies I've bothered so far to assemble into a single playlist on "the cloud" — there's about 450 of them, and putting the list into play-once/shuffle mode pretty much assures I won't hear any repeats for most sustained activity. (Because nothing's worse than boredom, right?)
Almost always, when I listen to music I wear headphones; this time, though, I wanted to give the new computer's speakers a rare workout. The office is a room over our garage, and when the subwoofer kicks in you can really feel the floor shuddering beneath your feet…
I've always liked "One Fine Day," despite the decidedly gender-unlightened lyrics; even without them, the music just sings giddy optimism. But on a "Clean up your room!" soundtrack rippling through a wooden floor, it really kicks — especially that jackhammer piano.
[Below, click Play button to begin One Fine Day. While audio is playing, volume control appears at left — a row of little vertical bars. This clip is 2:12 long.]
Audio clip: Adobe Flash Player (version 9 or above) is required to play this audio clip. Download the latest version here. You also need to have JavaScript enabled in your browser.
The piano, as it happens, was played by Carole King herself. After she'd written the music for then-husband Gerry Goffin's lyrics, they recorded her at the piano with singer Little Eva (who'd had a hit with "The Locomotion," and who also — cough, cough — coincidentally was the King-Goffin household's babysitter). They weren't crazy with her vocal, though, so they stripped it from the recording… and kept the instrumental when they turned it over to The Chiffons.
(Why to The Chiffons? Apparently, some whimsical genius with the record label wanted to follow up their previous hit — "He's So Fine," with that crazy doo-lang doo-lang hook — with another song which had "fine" in the title. Always good to know that caprice in pop-culture decision-making isn't limited to publishing! :))
Send to Kindle