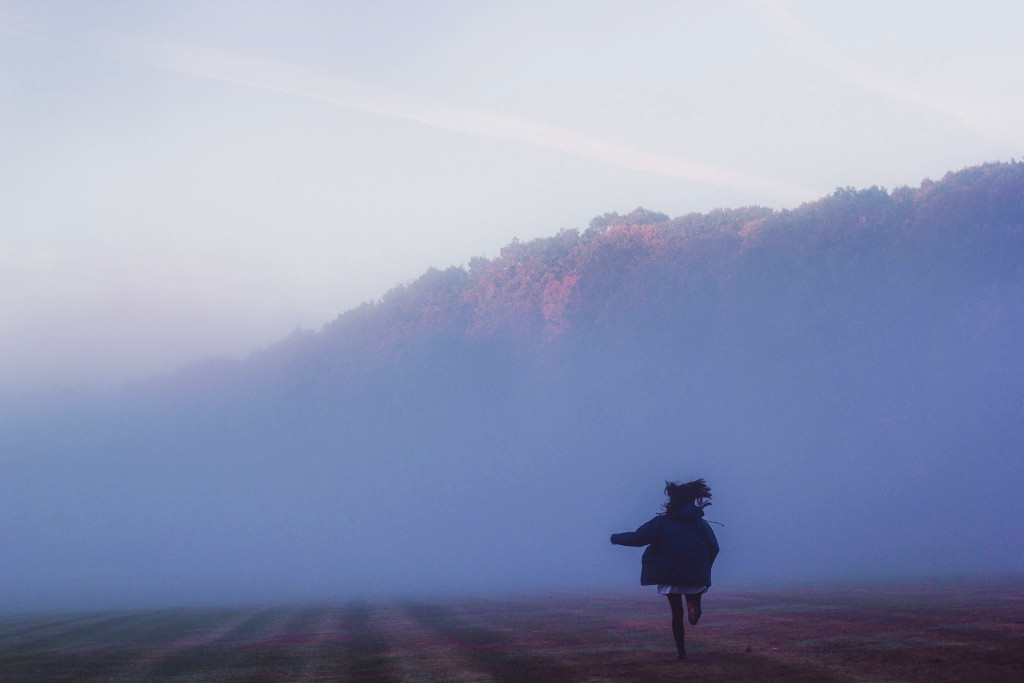 [Image: "Disappearing Act," by Lulu Lovering on Flickr. (Used here under a Creative Commons license; thank you!) Apparently this is a self-portrait; the photographer says, "This morning instead of a thunderstorm, it was a very billowy fog that was brushing up against the windows. Even though it was just beginning to be light, I tumbled out of bed and ran around the house trying to find my snuggly parka and tripod and remote. Then I made a quick dash out the back and tried to play it casual for the passing cars as I ran along the road a little ways to the big field where the fog was sitting in clouds on the ground."]
From whiskey river:
Last Day on Earth

If it's the title of a movie you expect
everything to become important – a kiss,
a shrug, a glass of wine, a walk with the dog.

But if the day is real, life is only
as significant as yesterday — the kiss
hurried, the shrug forgotten, and now,

on the path by the river, you don't notice
the sky darkening beyond the pines because
you're imagining what you'll say at dinner,

swirling the wine in your glass.
You don't notice the birds growing silent
or the cold towers of clouds moving in,

because you're explaining how lovely
and cool it was in the woods. And the dog
had stopped limping! — she seemed

her old self again, sniffing the air and alert,
the way dogs are to whatever we can't see.
And I was happy, you hear yourself saying,

because it felt as if I'd been allowed
to choose my last day on earth,
and this was the one I chose.
(Lawrence Raab [source])
…and:
I choose to believe that there is nothing more sacred or profound than this day. I choose to believe that there may be a thousand big moments embedded in this day, waiting to be discovered like tiny shards of gold. The big moments are the daily, tiny moments of courage and forgiveness and hope that we grab onto and extend to one another. That's the drama of life, swirling all around us, and generally I don't see it, because I'm too busy waiting to become whatever it is I think I'm about to become. The big moments are in every hour, every conversation, every meal, every meeting.
(Shauna Niequist [source])
…and:
Waiting for God

This morning I breathed in. It had rained
early and the sycamore leaves tapped
a few drops that remained, while waving
the air's memory back and forth
over the lawn and into our open
window. Then I breathed out.

This deliberate day eased
past the calendar and waited. Patiently
the sun instructed the shadows how to move;
it held them, guided their gradual defining.
In the great quiet I carried my life on,
in again, out again.
(William Stafford [source])
Not from whiskey river:
Serving with Gideon

Now I remember: in our town the druggist
prescribed Coca-Cola mostly, in tapered
glasses to us, and to the elevator
man in a paper cup, so he could
drink it elsewhere because he was black.

And now I remember The Legion—gambling
in the back room, and no women but girls, old boys
who ran the town. They were generous,
to their sons or the sons of friends.
And of course I was almost one.

I remember winter light closing
its great blue fist slowly eastward
along the street, and the dark then, deep
as war, arched over a radio show
called the thirties in the great old U.S.A.

Look down, stars—I was almost
one of the boys. My mother was folding
her handkerchief; the library seethed and sparked;
right and wrong arced; and carefully
I walked with my cup toward the elevator man.
(William Stafford [source])
…and:
Every gathering has its moment. As an adult, I distract myself by trying to identify it, dreading the inevitable downswing that is sure to follow. The guests will repeat themselves one too many times, or you'll run out of dope or liquor and realize that it was all you ever had in common. At the time, though, I still believed that such a warm and heady feeling might last forever and that in embracing it fully, I might approximate the same wistful feeling adults found in their second round of drinks… Up and down our street the houses were decorated with plywood angels and mangers framed in colored bulbs. Over on Coronado someone had lashed speakers to his trees, broadcasting carols over the candy-cane forest he'd planted beside his driveway. Our neighbors would rise early and visit the malls, snatching up gift-wrapped Dustbusters and the pom-pommed socks used to protect the heads of golf clubs. Christmas would arrive and we, the people of this country, would gather around identical trees, voicing our pleasure with worn clichés. Turkeys would roast to a hard, shellacked finish. Hams would be crosshatched with x's and glazed with fruit—and it was fine by me. Were I to receive a riding vacuum cleaner or even a wizened proboscis monkey, it wouldn't please me half as much as knowing we were the only family in the neighborhood with a prostitute in our kitchen. From this moment on, the phrase "ho, ho, ho" would take on a whole different meaning; and I, along with the rest of my family, could appreciate it in our own clannish way. It suddenly occurred to me. Just like that.
(David Sedaris [source])
…and:
You know how everyone's always saying seize the moment? I don't know, I'm kind of thinking it's the other way around, you know, like the moment seizes us.
(Nicole [source])
Send to Kindle