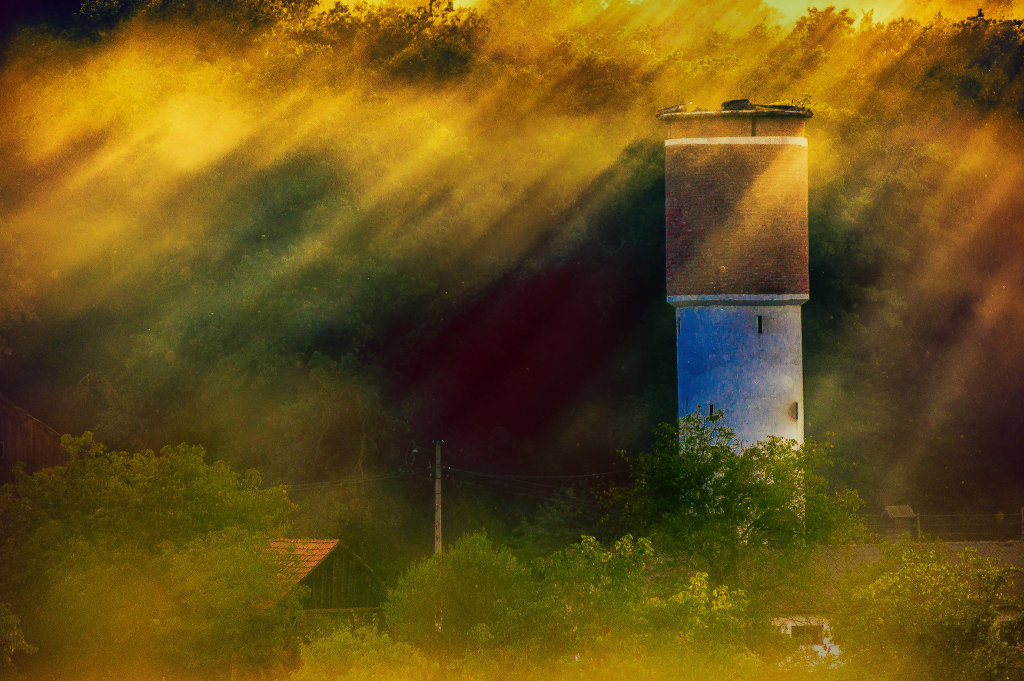 [Image: "Quiet Nature | Game of light," by Vasile Hurghis. (Found on Flickr; used here under a Creative Commons license — thank you!) The scene is a Romanian landscape. I don't know about you, but my own eyes resist seeing the tower on the right as what it is… especially when looking at anything else in the photo. I keep seeing it as a doorway to a world of colors which don't exist in the foreground world. And honestly, I guess there's no reason it can't be that, is there — no reason it can't be both that, and a simple rustic silo?]
From whiskey river (including the first paragraph, found elsewhere):
At 19, I read a sentence that re-terraformed my head: "The level of matter in the universe has been constant since the Big Bang."

In all the aeons we have lost nothing, we have gained nothing — not a speck, not a grain, not a breath. The universe is simply a sealed, twisting kaleidoscope that has reordered itself a trillion trillion trillion times over.

Each baby, then, is a unique collision — a cocktail, a remix — of all that has come before: made from molecules of Napoleon and stardust and comets and whale tooth; colloidal mercury and Cleopatra's breath: and with the same darkness that is between the stars between, and inside, our own atoms.

When you know this, you suddenly see the crowded top deck of the bus, in the rain, as a miracle: this collection of people is by way of a starburst constellation. Families are bright, irregular-shaped nebulae. Finding a person you love is like galaxies colliding. We are all peculiar, unrepeatable, perambulating micro-universes — we have never been before and we will never be again. Oh God, the sheer exuberant, unlikely face of our existences. The honour of being alive. They will never be able to make you again. Don't you dare waste a second of it thinking something better will happen when it ends. Don't you dare.
(Caitlin Moran [source: well, the quote is everywhere, dating back to at least 2014, but I don't know the original])
…and:
A Child is Something Else Again

A child is something else again. Wakes up
in the afternoon and in an instant he's full of words,
in an instant he's humming, in an instant warm,
instant light, instant darkness.

A child is Job. They've already placed their bets on him
but he doesn't know it. He scratches his body
for pleasure. Nothing hurts yet.
They're training him to be a polite Job,
to say "Thank you" when the Lord has given,
to say "You're welcome" when the Lord has taken away.

A child is vengeance.
A child is a missile into the coming generations.
I launched him: I'm still trembling.

A child is something else again: on a rainy spring day
glimpsing the Garden of Eden through the fence,
kissing him in his sleep,
hearing footsteps in the wet pine needles.
A child delivers you from death.
Child, Garden, Rain, Fate.
(Yehuda Amichai, translated by Chana Bloch [source])
Send to Kindle