[Another entry in an occasional series about American songs with long histories. This one follows Part 1, about the history of the composition of "Smoke Gets in Your Eyes." You can read Part 1, posted last week, here.]
[Video clip above assembled from the first film version of Roberta (1935); Irene Dunne sings it here. Later in the film, Fred Astaire and Ginger Rogers dance to an instrumental version, and their dance is what people usually remember from the film. This clip's uploader helpfully tacked the dance scene onto the vocal: it begins at around 4:03 into the clip.]
By the time the 1940s rolled around, "Smoke Gets in Your Eyes" had already established itself in the pop songbook. According to at least one observer, pianist Joe Bushkin of the Tommy Dorsey band, it provided the pivotal moment on "the night Frank Sinatra happened." (Something of a storyteller, Bushkin apparently told the story many times; the details below come from Sinatra! The Song Is You, by Will Friedwald.)
Bushkin was 23 at the time, just a couple of years younger than Sinatra himself, and neither man had been with Dorsey for long at that point. (For Sinatra, it had been just a few months, and Bushkin a few weeks.) On a night in May, 1940, the band was playing at a club called the Astor Roof in New York City.
Sinatra's second number that night — his first featured solo with Dorsey — was "Begin the Beguine." "The place," said Bushkin, "went bananas!" It was a moment which of course Dorsey wanted to capitalize on, but he had one problem, a big one: he had no other Sinatra-only numbers in the playbook that night. His solution was to instruct Bushkin and Sinatra to just do a few numbers together, whatever they could agree on:
Bushkin remembered that Sinatra's confidence was unshakable. He simply went on singing to the wild delight of the now no-longer-dancing crowd. [Bushkin], however, was completely taken aback. "As we were playing, I was trying to figure out his range… I was thinking quickly, 'Where is his top note?' If I can get to the top note, the bottom will take care of itself."
Bushkin was still confused a few songs later, when Sinatra turned to him and named "Smoke Gets in Your Eyes" as the next selection. Bushkin:
Well, if you know that tune, man, you know that you can really get lost in the middle part [the bridge]. Unless you know what you're doing, that chord change will just lose you. I'm right out there without bread and water, man! Next thing I know, Frank was out there singing it all by himself. He was singing the bridge, a capella. I was so embarrassed. I mean, Jesus, all the guys were looking at me, so I just turned around and walked away from the piano! I went to the side and then ran back to the piano and finished up the tune. And that was the last song we did. I thought Tommy was going to kill me, but he thought it was so funny!
The "bridge" Bushkin refers to — the one that apparently daunts the nerve of musicians attempting the song — is the third stanza (complete lyrics here, for reference; as I mentioned in Part 1, this transcription comes from songwriter Jimmy Webb):
So I chaffed them and I gayly laughed
To think that they could doubt my love,
Yet today my love has flown away
I am without my love
To repeat what I often say here, with no false modesty, I don't know much formally about music. But even I can tell that this stanza's music is somehow "different" from what surrounds it. The other stanzas seem to climb higher and higher from one line to the next, even within lines; this one goes down and down.
Which of course matches the sense of the lyrics at that point, of the story: warned by friends that he's setting himself up for disappointment, he blunders happily onward… until — yep — he's left alone.
I may know little about music, but I can read well enough to recognize another problem with that stanza — in the words. About this stanza, says David Yezzi in the New York Times Book Review of December 3, 2000, reviewing Reading Lyrics, by Robert Gottlieb and Robert Kimball:
Spoken, this is stupid stuff. (Think of Steve Allen's riotous straight-faced recitation of "Hound Dog.") Restore the tune and you get "Smoke Gets in Your Eyes," the show-stopper that… Harbach considered one of his best.
Oh, I could (and did) look up that "chaffed" in a dictionary. So I know that it means the narrator sort of laughed off his friends' warnings, maybe with something like a (doomed) Haha, you think so — but you don't know her like I know her! disclaimer.
But really now. Chaffed? In what world does someone use a word like that in conversation?
In one world, anyhow: the world of light opera, of operetta, from which Otto Harbach came. There a lyricist could get away with all sorts of rococo flourishes, because the audience would be sitting down, watching actors on a stage. (In this stanza, the singer might toss his head and laugh bitterly at the memory.) You could even get away with it in the mid-20th-century pop-music world of people dancing to the song without really listening to it.
But the second someone paid attention to that line, it was bound to jump out: chaffed is just a cheap rhyme for laughed, and barely even says more.
I like to picture the moment when Otto Harbach first handed Jerome Kern the lyrics. (Harbach's back pocket bulges with a well-thumbed thesaurus.) Kern winces, thinking, Jeezus, where the hell did that come from? I should've gotten Hammerstein to do the lyrics…! But alas, it's too late; the show must go on. Kern shrugs and tells the singer to just sing through the line and hope the audience is looking the other way.
One final problem with the lyrics, in the final stanza: the words don't quite fit. Listen again to The Platters and Ruth Etting and you'll hear them try to cover it: …when a (silence)ly flame dies. Guess Harbach's thesaurus failed him again there!
Whatever the song's difficulties, they haven't dissuaded many, many performers from tackling it. One fairly recent source said that as of 2004, the author had counted "over 800 versions of the song available on record." Below, I'll touch on a few of them.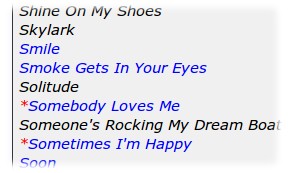 Unfortunately, as far as I could tell from my own stumbling around, Frank Sinatra never recorded "Smoke Gets in Your Eyes" (although he sang it live, and maybe for broadcast). I later came across a bulletin board apparently for use by the Sinatra family themselves, and found a message thread about "songs he never sang." Buried in this thread I confirmed my suspicion (see image at right), in a message specifically listing such songs — as they appeared in a list someone once given to Sinatra himself. (Song titles in blue are "songs he sang on radio or somewhere else at some point in time"; those flagged with a red asterisk, "songs he checked off [as ones he meant/hoped] to record.")
You've already heard (in Part 1) The Platters' and Ruth Ettings' popular interpretations from their respective eras. Until The Platters came along, covers of the song seem to have been of three broad types: respectful vocals, à la Etting; Big Band swing versions (presumably, this was Sinatra's category); and — ducking all the issues about the lyrics — instrumentals.
Among the latter, it seems always to have been popular with jazz musicians, who apparently love noodling around with the song's existing complexities. Here's the Nat King Cole Trio:
[For each non-YouTube version of "Smoke Gets in Your Eyes" on this page, click Play button to begin listening. While audio is playing, volume control appears at left — a row of little vertical bars. This first clip is 2:57 long.]
Audio clip: Adobe Flash Player (version 9 or above) is required to play this audio clip. Download the latest version here. You also need to have JavaScript enabled in your browser.
In the 1970s, the song garnered new interest as rock performers decided to step out from under the shadow of The Platters' (and especially lead singer Tony Williams's) overpowering vocals. First up, UK reggae band Blue Haze scored a hit — its only one (#27 on US charts) — with this, from 1972:
[This clip is 3:14 long.]
Audio clip: Adobe Flash Player (version 9 or above) is required to play this audio clip. Download the latest version here. You also need to have JavaScript enabled in your browser.
A couple of years later, Bryan Ferry tackled it, in what Wikipedia describes as a "quavering" version which got as high as #17:
[This clip is 2:53 long.]
Audio clip: Adobe Flash Player (version 9 or above) is required to play this audio clip. Download the latest version here. You also need to have JavaScript enabled in your browser.
Of course, any time the lyrics of a truly popular song take wing on a striking metaphor, not too far behind will come the comedians. Here, the Muppets Rowlf and Zoot perform an instrumental duet, on piano and a suspiciously multi-purpose saxophone:
…and then there's this gem (completely unexpected when I set out to find cover versions), from Judy Garland (of all take-the-music-seriously performers):
Finally, one of my favorite renditions of all (for more than one reason)…
Here's how Wikipedia sums up Wayne Wang's 1995 film, Smoke:
The film follows the lives of multiple characters, all of whom are connected by their patronage of a small Brooklyn tobacco shop managed by Auggie (Harvey Keitel). Brooklyn Cigar Co. was located on the corner of 16th Street and Prospect Park West.
Over the film's closing credits appeared a highly funked-up version of "Smoke Gets in Your Eyes," by (brace yourselves) the Jerry Garcia Band. Here's the performance's video:
Yes, that's Ashley Judd with him in the bar.
And yes, Jerry Garcia — who died a couple weeks after the release of the film's soundtrack, making this one of his last recordings (if not the very last) — was named after… Jerome Kern.
____________________________
Bonus Miscellany
As I mentioned the other day, I had a real challenge trying to wrestle this What's in a Song entry into two parts, each no more than 2,000 words long. My favorite bits from among the interesting stuff which didn't really fit anywhere else:
Jerome Kern's widow (who held the rights to the song) wanted to bar The Platters from recording it. I haven't found out why — maybe just the snootiness of the mid-1950s music establishment to that music. Critic Dave Marsh's The Heart of Rock and Soul reports the reasons she agreed to drop her injunction:


She was dissuaded by three factors: Oscar Hammerstein publicly thanked [Platters' arranger/producer] Buck Ram and the group for reviving a dead song…; it turned out that song publisher Max Dreyfus had solicited the Platters version; and Dreyfus told her lawyer that the new recording could earn the Kern estate royalties on over a million copies.

Ha!

Pop-culture references:

From the final scene in Catcher in the Rye (Holden Caulfield narrating, of course):


The song the carousel was playing was "Smoke Gets in Your Eyes." It was playing it very jazzy and funny. All the kids kept trying to grab for the gold ring, and so was old Phoebe, and I was sort of afraid she'd fall off the goddam horse, but I didn't say anything or do anything. The thing with kids is, if they want to grab the gold ring, you have to let them do it, and not say anything. If they fall off they fall off, but it's bad if you say anything to them.

"Smoke Gets in Your Eyes" was the title of the pilot episode of the hit Mad Men TV series.

And, in a book of journal entries by three World War II bomber-pilot brothers, I found this surprising information:


The Germans had changed the song for us to "Smoke Blocks Your Bombsight."

They asked me how I knew my bombs hit true
I of course replied, my bombsight inside cannot be denied
They said, someday you'll find that all bombsights are blind.
When your target is not on fire, realize,
smoke gets in your eyes.

We cannot win this war unless we can hit our targets.
Send to Kindle