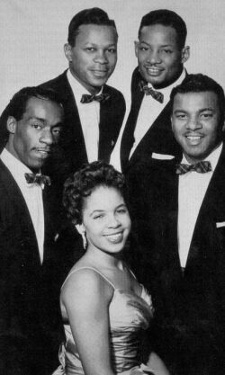 [One of a continuing series of posts on American popular songs with long histories. As is usually the case, this one on the history of "Smoke Gets in Your Eyes" will be was followed in a couple days by Part 2, about some of the cover versions.]
Where Were You in '62?
So asked one of the taglines to George Lucas's 1973 film, American Graffiti. The question both pinpointed the time of the film's action and suggested that the film would be even better if the audience brought their own memories along to the theater.
Yet the hit soundtrack which followed wasn't so neatly nailed down: it mashed together hits released between 1953 to 1964 (!). Hence — given the way that blocks of AM Top 40 radio playlists were constructed back then — these songs were unlikely to have been broadcast exactly that way during the single day of the characters' lives which the film depicts.
The Graffiti soundtrack also failed to include many artists who would have been on the air over that twelve-year period — notably Elvis Presley. The idea of releasing a soundtrack album of original hits tied to the release of a film wasn't new, but music producers and rights holders were suspicious of the payment plan proposed by studio lawyers: each song's owner(s) would get a flat, and equal, amount. (Indeed, Fats Domino's "Ain't That a Shame" was included, despite the rights issues, by the expedient of re-recording it just for the album.)
In any case, chronologically midway through that block of years, along came "Smoke Gets in Your Eyes," recorded by The Platters in 1958 and topping the charts a year later:
[Below, click Play button to begin Smoke Gets in Your Eyes. While audio is playing, volume control appears at left — a row of little vertical bars. This clip is 2:39 long.]
Audio clip: Adobe Flash Player (version 9 or above) is required to play this audio clip. Download the latest version here. You also need to have JavaScript enabled in your browser.
Lyrics:
Smoke Gets in Your Eyes
(Kern/Harbach)

They asked me how I knew
My true love was true
I, of course, replied,
Something here inside
Cannot be denied.

They said someday you'll find
All who love are blind
When your heart's on fire
You must realize
Smoke gets in your eyes.

So I chaffed them and I gayly laughed
To think that they could doubt my love,
Yet today my love has flown away
I am without my love

Now laughing friends deride
Tears I cannot hide
So I smile and say,
"When a lovely flame dies,
Smoke gets in your eyes."
(Above lyrics transcription per songwriter Jimmy Webb's study of pop music composition, Tunesmith, probably using The Platters' cover as a guide. Slight variations do crop up in others, though.)
Like many people who lived through the '50s and '60s, I imagine, I'd always thought that to be the version of the song. It was certainly the only one I'd ever heard. And could any performer possibly have handled such lyrics and music with more authority than The Platters' lead singer, Tony Williams?
Little did "My Generation"-centric I realize that the movie tagline might just as well have read: Where Were You in '32?
When the curtain went up on the Broadway musical Roberta in November, 1933, among the performers were a solid handful of notables who weren't yet famous in their own right — but on their way:
Comedian Bob Hope hadn't yet gone to Hollywood, or really much of anywhere except vaudeville. He'd had walk-on Broadway roles before, but Roberta was his first time in a lead part.
Fred MacMurray and Sydney Greenstreet hadn't made any films yet.
In the orchestra, drummer Gene Krupa (said one source) was "receiving nightly lessons in reading music from a trombonist named Glenn Miller."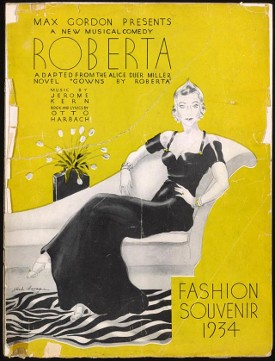 Also associated with the production were some names not familiar to theatergoers at all. Among them was a Russian ingenue who (like Madonna) went by a single name, "Tamara." (Full name: Tamara Drasin. The producers had reportedly first heard her singing in a little Russian night spot down on 14th Street in New York, although she'd already appeared in other Broadway shows. A bit of truthiness in show-biz promotion back then, too.)
And the program also listed some names which many people thought they might have (this time around, if not before) heard the last of — such as turn-of-the-century diva Fay Templeton, in the title role.
No strangers to Broadway at all, though, were the lyricist  and composer for Roberta's music: Otto Harbach and Jerome Kern, respectively.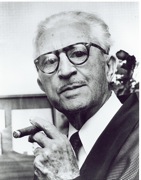 Harbach, the older of the two men, had taught English literature at Columbia University and Whitman College in the closing years of 19th century. He'd moved from that to journalism, and from that to advertising copywriting; while such work back then was not even remotely as high-intensity as it became later, in the true mass-media era, it did give Harbach an underpinning in turning phrases and writing concisely — useful skills when he moved into songwriting.[1] That final career change occurred in the early 1900s, when he collaborated with composer Karl Hoschna on what would become his first hit musical, Three Twins (1908).
Reading as a show-business amateur in the 21st century about Broadway musicals of a hundred years ago can feel a little odd. You keep coming across shows described as "hits," even "enduring hits" — shows whose names you've never heard of. But even I know the big number from Three Twins, Harbach's first hit song: "Cuddle Up a Little Closer, Lovey Mine." I can remember that song being a favorite of the old-timers during church and school socials when I was a boy; I'm pretty sure I imagined that it — like "A Bicycle Built for Two," say — had been around since the dawn of musical history. In fact, of course, it was only about as old as The Platters' version of "Smoke Gets in Your Eyes" is now. (Ahem.)
Harbach also collaborated on show lyrics on several occasions with Oscar Hammerstein II (among others), for whom he acted as something of a mentor. And his No, No Nanette (1930) has by now probably been produced more times than Roberta.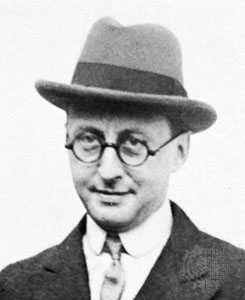 Kern was no slouch, either. He'd already made a huge dent in people's ideas of what a musical could be, especially with 1927's Show Boat (for which Kern provided the music to Hammerstein's words). Says Wikipedia:
As the first true American "musical play," [Show Boat] marked a significant departure from operettas, light musical comedies of the 1890s and early 20th century and the "Follies"-type musical revues that had defined Broadway. According to The Complete Book of Light Opera, "Here we come to a completely new genre — the musical play as distinguished from musical comedy. Now… the play was the thing, and everything else was subservient to that play. Now… came complete integration of song, humor and production numbers into a single and inextricable artistic entity."
Both Kern and Harbach had been successful contributors to that operetta/light-musical tradition. (They had in fact worked together on other shows before this one — but Roberta would be their last collaboration.) In both Harbach's lyrics and Kern's melody, especially in "Smoke Gets in Your Eyes," you can still see traces of the florid melodrama of a musical form on its way out the popular door. But overlaying it is a bit sharper, more contemporary sophistication as well.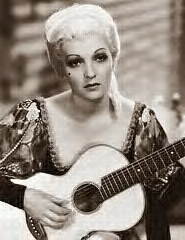 "Smoke Gets in Your Eyes" itself was originally sung by Tamara, accompanying herself onstage, alone, on solo guitar. Speaking to Bob Hope's character about her love for another man, she introduced the song with a spoken line referring to a Russian proverb: When your heart's on fire, smoke gets in your eyes. Hope, meanwhile — the actor, not his character — felt that the whole show was way too serious and sentimental; throughout his time onstage, he kept injecting ad-libbed and other wisecracks, which had to be approved by the somewhat more reserved Harbach before they could be used outside rehearsal.
At the point when Tamara mentions the proverb, Hope (he later said) tossed in the line: "We have a proverb in America, too: Love is like hash. You have to have confidence in it to enjoy it."
Harbach was not pleased — after all, its Hopeish sarcasm would pretty much trample the sentimental sense of the song which followed. He rejected the line outright. But Hope did an end run around the librettist by then going to Kern. There's no record, as far as I know, if in this juvenile "Mommy won't let me, so I'll ask Daddy" routine he told Kern it had already been turned down. But Kern said he was fine with it, thus giving Hope the permission he wanted. "I put it in," the comic later recalled, "and I was right, because it pulled one of the biggest — no, the biggest laugh in the show."
(Of course, Harbach had not rejected the line because it wasn't funny enough but because it was funny, period…)
As for the music, Kern had originally cast it in a march tempo. (I'll probably never get my head around that.) Not surprisingly, others in the production objected and he reworked it as a simpler ballad. I've read two versions of where the melody itself came from.
In one, as the show's producer Max Gordon once recalled, "Kern had written the melody as a signature for a radio series that never materialized."
The second version — the one more widely cited — said that Kern had written the melody to accompany a brief tap-dance routine in Show Boat, a number which didn't make it into that show. Harbach had happened to come across that music, and suggested to Kern that simply lengthening the staccato notes would make of it a lovely tune in its own right. Kern agreed, and with Harbach's lyrics layered on top we got the song which stopped the show from its first performance. (People who didn't know the name of the musical reportedly referred to it as "the 'Smoke Gets in Your Eyes' show.")
There's just one problem with this second version of the story: Kern hated it, and resented (rightly or wrongly) Harbach's implying that he, Kern, might have needed help crafting the tune which would become the biggest single hit either of them had.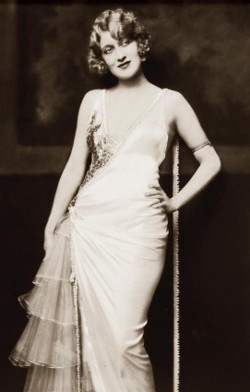 So what did it sound like as first performed? Unfortunately (maybe!), no original-cast album exists. But within a year of Roberta's premiere, four hit versions of the song had come out — including one by a popular jazz singer of the 1920s and '30s, Ruth Etting. Etting had been a member of the Ziegfeld Follies troupe and, as a singer, was not noted for taking liberties with a song.[2] Here's her cover of the song:
[Below, click Play button to begin Smoke Gets in Your Eyes. While audio is playing, volume control appears at left — a row of little vertical bars. This clip is 2:39 long.]
Audio clip: Adobe Flash Player (version 9 or above) is required to play this audio clip. Download the latest version here. You also need to have JavaScript enabled in your browser.
Whoever recorded it, hit or not, it's really a rather strange song, one which numerous interpreters have approached in a gingerly fashion. We'll look at some of the reasons why (and some of those careful covers) in Part 2 of this entry, coming up sometime in the next few days which you can read here.
______________________________
1 The universe moves in strange circular ways sometimes: "Smoke Gets in Your Eyes" was the title of the pilot episode of HBO's Mad Men television series… about advertising executives.
[return]
2 She was also married to a mobster: Moe "The Gimp" Snyder. This may be my favorite Ruth Etting fact.
[return]
Send to Kindle