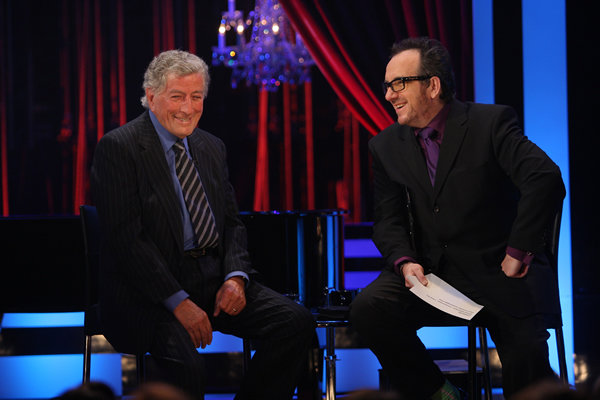 [Photo: Tony Bennett with Elvis Costello. Don't worry, today's song is a solo.]
Tony Bennett was 82 years old when he appeared, in 2008, on Elvis Costello's talk-and-music program, Spectacle. His performance of this old standard, at close to the beginning of the episode, greatly moved me.
I've had a Frank Sinatra cover for years. But his version "swings," flirting (I guess) with the object of the song's affection. Here, Bennett takes his time with it, even free-form vocalizing softly — and a very little — down towards the end.
In this recording of the performance, you'll hear two distinct bursts of applause at the beginning. The first occurs when Bennett agreed to Costello's request to sing something by Jerome Kern. Bennett didn't announce which Kern he'd choose, though, just began singing — the second round of applause greets the specific selection. At the piano is Bill Charlap, whom Bennett had introduced as "the finest jazz pianist today," but I'd never heard of him before. Charlap certainly did nothing during this performance (including a sweet and tender solo of his own) to make me question Bennett's wisdom.
About the song: Kern composed the music, but the lyrics were by Dorothy Field. It was introduced in Fred Astaire's Swing Time of 1936, where Astaire croons it to Ginger Rogers. Wikipedia quotes Field: "The first time Jerry played that melody for me I went out and started to cry. The release absolutely killed me. I couldn't stop, it was so beautiful."
[Below, click Play button to begin The Way You Look Tonight. While audio is playing, volume control appears at left — a row of little vertical bars. This clip is 5:00 long.]
Audio clip: Adobe Flash Player (version 9 or above) is required to play this audio clip. Download the latest version here. You also need to have JavaScript enabled in your browser.
[Lyrics]
Send to Kindle