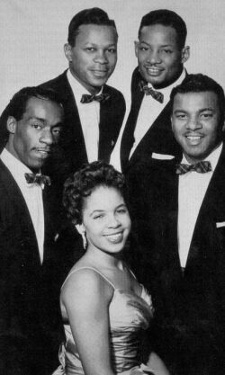 [One of a continuing series of posts on American popular songs with long histories. As is usually the case, this one on the history of "Smoke Gets in Your Eyes" will be was followed in a couple days by Part 2, about some of the cover versions.]
Where Were You in '62?
So asked one of the taglines to George Lucas's 1973 film, American Graffiti. The question both pinpointed the time of the film's action and suggested that the film would be even better if the audience brought their own memories along to the theater.
Yet the hit soundtrack which followed wasn't so neatly nailed down: it mashed together hits released between 1953 to 1964 (!). Hence — given the way that blocks of AM Top 40 radio playlists were constructed back then — these songs were unlikely to have been broadcast exactly that way during the single day of the characters' lives which the film depicts.
The Graffiti soundtrack also failed to include many artists who would have been on the air over that twelve-year period — notably Elvis Presley. The idea of releasing a soundtrack album of original hits tied to the release of a film wasn't new, but music producers and rights holders were suspicious of the payment plan proposed by studio lawyers: each song's owner(s) would get a flat, and equal, amount. (Indeed, Fats Domino's "Ain't That a Shame" was included, despite the rights issues, by the expedient of re-recording it just for the album.)
In any case, chronologically midway through that block of years, along came "Smoke Gets in Your Eyes," recorded by The Platters in 1958 and topping the charts a year later:
[Below, click Play button to begin Smoke Gets in Your Eyes. While audio is playing, volume control appears at left — a row of little vertical bars. This clip is 2:39 long.]
Audio clip: Adobe Flash Player (version 9 or above) is required to play this audio clip. Download the latest version here. You also need to have JavaScript enabled in your browser.
Lyrics:
Smoke Gets in Your Eyes
(Kern/Harbach)

They asked me how I knew
My true love was true
I, of course, replied,
Something here inside
Cannot be denied.

They said someday you'll find
All who love are blind
When your heart's on fire
You must realize
Smoke gets in your eyes.

So I chaffed them and I gayly laughed
To think that they could doubt my love,
Yet today my love has flown away
I am without my love

Now laughing friends deride
Tears I cannot hide
So I smile and say,
"When a lovely flame dies,
Smoke gets in your eyes."
(Above lyrics transcription per songwriter Jimmy Webb's study of pop music composition, Tunesmith, probably using The Platters' cover as a guide. Slight variations do crop up in others, though.)
Like many people who lived through the '50s and '60s, I imagine, I'd always thought that to be the version of the song. It was certainly the only one I'd ever heard. And could any performer possibly have handled such lyrics and music with more authority than The Platters' lead singer, Tony Williams?
Little did "My Generation"-centric I realize that the movie tagline might just as well have read: Where Were You in '32?
Send to Kindle