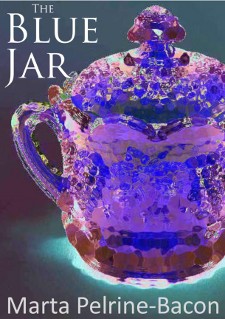 [Note: please be sure to read the disclosure at the foot of this review.]
Marta Pelrine-Bacon is a fan of the old Twin Peaks TV series; she has actually named one of her several online abodes Searching for Agent Dale Cooper (the FBI agent in the series, played by Kyle Maclachlan). In the promotional copy for her debut novel, The Blue Jar, her publisher says:
Fans of the quirky and off-beat will love this atmospheric, psychological tale of revenge and obsession with its unexpected twists and turns. Lake Belle, reminiscent of Twin Peaks set in the deep American South, provides the atmospheric setting for this thrilling psycho-drama with its underlying theme of weird justice.  Is it magic? Or is something else at work?
All of which pretty much lays it out there for anyone else familiar with the program — or its reputation, for that matter: expect the off-center.
So, how off-center is it? Let's see…
Send to Kindle